Biohazard – Live @ London Underworld
aaamusic | On 23, Oct 2013
This slideshow requires JavaScript.
Tuesday 22nd October, London
Sold for Evil are an amazing band and, actually, the only band on the bill with a keyboard. For a band on so early they went down very well and the crowd reacted perfectly towards them. Sold for Evil did a very good job considering it's so difficult opening on a Tuesday at the Underworld. I think this band will evolve in time and really pick up a good fan base so those in attendance will be happy they saw you first in the Capital City. They have elements of Slipknot, American Head Charge, which also verge on Rap and Nu-Metal, while keep a good heaviness. They are really worth checking out.
Departed maybe are little too 'new school' for me and not the right band for this gig. They verge on Hardcore in a modern-day, Post Rock way and they try to get a pit going for them akin to bands like the Gallows or World Alive, but they just have not got the right ingredients for this kind of symphony. The band had good potential but it did not translate very well in the crowd; possibly more on the Suicide Silence kind of crowd rather than for a Biohazard night…
Great how they hold the crowd and an incredible opening for Biohazard, Arythmia demonstrate maturity and ability to play bigger places, showing elements from Lamb of God to Gojira and hailing from my land of Italy. I just wonder why I have not heard of this band before because they have a very commanding edge to them and they really grip the crowd from start to finish. I think that in the future this band will be really important in the Metal scene.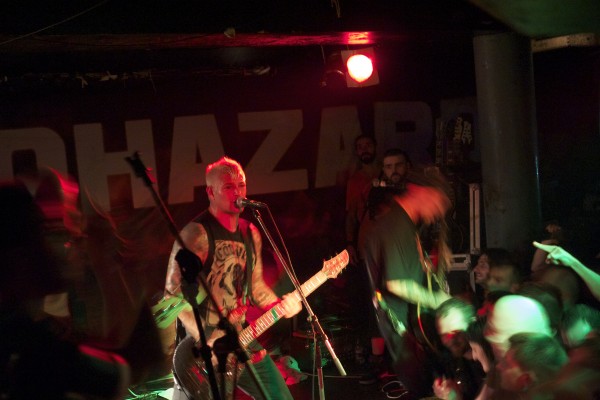 Biohazard come back with an amazing gig tonight, full of energy and a powerful music. The crowd react insanely and constantly mash-up, with great vibes flowing from the stage. Guitar player/singer Billy Graziadei was exceptional all the way through and compensated the missing of ex-singer/bass player Evan Seinfeld very well. But this really didn't matter because newish bass player Scott Roberts, who actually has been with the band a little time now, did a great job.
Overall, they played a quite short set but they promised to be back in 2014 with amazing new material in a full album format. The crowd really went crazy, not caring for their own lives and Biohazard were very public-friendly; at the end of the gig they went down to the public giving nothing but joy to  the fans. One final thing I have to say: if you have not seen Biohazard, check 'em out now!
Review and Photos: Ays Kura