Brit Floyd presents P-U-L-S-E – Live @ The Royal Albert Hall
aaamusic | On 24, Oct 2013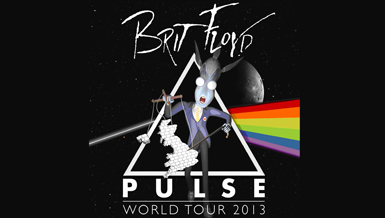 Described as 'the Pink Floyd ultimate light & sound experience', Brit Floyd has performed to over half a million fans throughout the world since their formation in 2011. They successfully recreate the music of the influential English band Pink Floyd who became internationally famous for their philosophical lyrics, musical experimentation and ambitious light arrangements.
This three hour show featured five classic albums: Animals, The Wall, Wish You Were Here, The Division Bell, and The Dark Side of The Moon. The latter is currently celebrating its 40th anniversary.
It included the well-known arch and circle light show together with new animation and projection which was visually memorable. Musical director, guitarist and vocalist Damian Darlington clearly had a detailed understanding of Pink Floyd music.
This was psychedelia from the progressive and underground  movements of the '60s and '70s that some called space rock, art rock or acid rock. Pink Floyd also innovated with ambient music during the '80s and their lengthy instrumentals touched on blues, folk, country and electronica.
Music from Brit Floyd this evening was probably closer to the original album versions than you would find if you could see the original band live. Familiar tracks from the past still sounded fresh and imaginative, with fine vocals from three singing ladies. The set was loud, exciting, intense and spontaneous, and it avoided being 'too grand', which is  sometimes the criticism that progressive artists receive.
Anthony Weightman