THE KINKS – Muswell Hillbillies
aaamusic | On 25, Oct 2013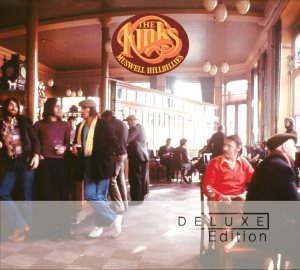 Influential sixties English rock band The Kinks were formed in Muswell Hill, North London. Called a British Invasion Band  in the USA, their seventies line-up became Ray Davies (guitar and vocals), Dave Davies (guitar and vocals), John Gosling (keyboards), John Dalton (bass) and Mick Avory (drums).
Their 2CD Deluxe Edition album Muswell Hillbillies was released on October 7th, 2013 on Sanctuary Records with a 23 page booklet designed by award-winning art director Phil Smee.
The first disc is their classic ninth studio album, written and produced by Ray Davies, and originally released in 1971. It was first on their new label RCA and musically shows their interest in Americana whilst lyrically reflecting their British roots. Ray sings a rowdy foot-tapping rock song against industrialization in '20th Century Man' , whilst 'Alcohol'  is music-hall inspired and title track 'Muswell Hillbilly' has a lively country sound.
Muswell Hillbillies was the first of their albums to feature a new brass section, The Mike Cotton Sound, including Mike Cotton (trumpet), John Beecham (trombone and tuba) and Alan Holmes (clarinet).
The second disc of bonus material includes 5 previously unreleased tracks re-mastered from original tapes by archivist and sound engineer Andrew Sandoval.  They have different vocal and instrumental styles and are curious and interesting to listen to: 'Lavender Lane', 'Nobody's Fool', 'Have A Cuppa Tea', 'Uncle Son' and '20th Century Man' .
Devoted fans will probably continue to regard this particular album as one of The Kinks best and strongest, with music that is good throughout. The themes reflect tensions in British life, anger and frustration at poverty and the inevitable human voyages  into escapism and fantasy.
A new Ray Davies book  Americana: The Kinks, The Road and The Perfect Riff  has been published by Virgin Books.
Anthony Weightman