SAHG – Slip off the Edge of the Universe
aaamusic | On 27, Oct 2013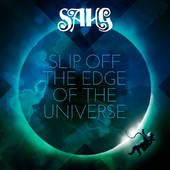 There is definitely a soft spot in my heart for stoner metal and its ilk. There's something in its sense of heat, its meandering grittiness, that appeals to me. And Sahg's latest single, 'Slip off the Edge of the Universe' is a phenomenal example. It combines complex riffs with clever, almost proggy songwriting, and a vocal style that is definitely NOT ripping of Kyuss. Which is a relief. Instead the vocals are almost a shamanistic wail, which works very well alongside the hazy, sci-fi flange effects on the guitars to create an uncanny clash between the darkly mystical and gleaming futurity.
The song is very, very well-written indeed. Starting with slow, atmospheric chords hanging over gaping spaces, the riff builds and builds into the verse, where the mesmeric and fluid bassline takes the lead alongside the driving vocals. In the chorus, the drums step it up a gear to rattle cymbals in sinister shimmers as the guitars chug with a throaty distortion. The lyrics are, admittedly, slightly absurd if you aren't aware of the story (think of an Icarus-figure taking a voyage into the inner cosmos of the mind, and you're there).
The guitar solo might feel somewhat of a letdown, but that may in part be down to the high quality of the main riff, where all instruments intertwine and play around one another as they work off the same theme.
Overall, this is a good track, with a few minor wobbles here and there. I really like the sci-fi/stoner doom combination, reminiscent of the earlier space rock bands, but I can't help but feel that although this may be a great album track, it doesn't have the memorability to cut it as a single.
Katie H-Halinski