EMINEM – The Monster
aaamusic | On 15, Nov 2013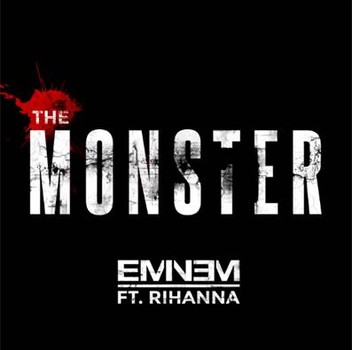 Eminem and Rihanna collaborate together again to create Eminem's latest single The Monster. The single is available now and is taken off the hugely anticipated album The Marshall Mathers LP2 which is also available now.
Eminem raps with his signature tone and flow using clever metaphors and rhyme patterns, changing the speed of his rhymes and flow throughout the track.
He touches on a range of topics from his rising fame in the first verse:
"Wanted to receive attention for my music / Wanted to be left alone in public excuse me /For wanting my cake, and eat it too, and wanting it both ways…"
To his thoughts of his battles within his inner monster in the second verse and in third reflecting on the days where he used to go at other MCs on a Dre track and being able to relate to millions. Rihanna performs a catchy and commercial vocal on the hook of the track which is certain to stay in listener's head.
The Monster is fairly reminiscent of Eminem and Rihanna's previous collaboration 'Love The Way You Lie' and is sure to be another chart topper for Eminem.
Michael Joyce