Submotion Orchestra – Live @ KOKO
aaamusic | On 18, Nov 2013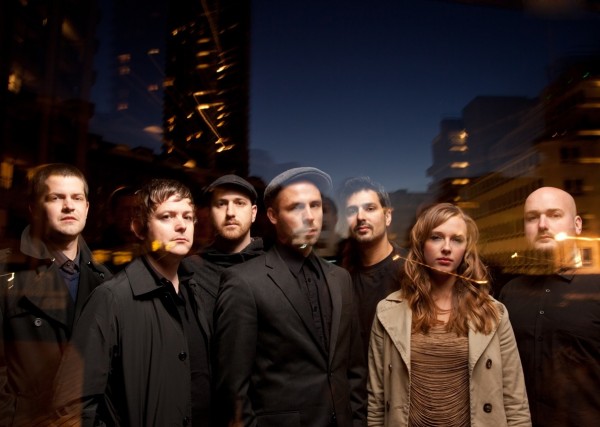 Friday 15th November, London
Although loosely associated with the ongoing EFG London Jazz Festival, tonight's headline show at KOKO is part of a nation-wide promo tour in support of Submotion Orchestra's excellent new EP, 1968. Nonetheless, this feels like something of a victory lap – a celebration of some greatly deserved 2013 recognition; a result of the sleeper success of last year's Fragments album, which also warranted a headline appearance at this fine North London venue. There was something to prove at last year's KOKO show – that they were worthy headliners, which, of course, they did with ease. Tonight, 13 months later, the jazz-soul-electronic-pop fusion seven-piece are back, with more confidence and live experience, not to mention some long overdue media support (that loose association with the London Jazz Festival can only have widened their horizons).
Submotion Orchestra kick off the set as five-piece showcasing an instrumental composition, with singer Ruby Wood biding her time in the wings and producer/engineer Ruckspin working behind the scenes (presumably at the mixing desk). Although drummer and composer Tommy Evans is considered the band's MD (whether officially or unofficially), it is charismatic keys player Taz Modi who is the focal point of this first song; an extremely gifted contemporary jazz pianist (on the side) that I first had the pleasure of seeing as part of Matthew Halsall's live band at Ronnie Scott's earlier this year.
Submotion's instrumental music – with its subtle brass-laced jazz, trip-hop backbone, and piano-lead melodies – has attracted inevitable comparisons with Portico Quartet. It's not hard to understand why – both bands thrive in the restrained melancholia most associated with brooding post-electronica. But there is one main difference between Submotion and Portico:  whereas Portico prefer to remain in the distant waters of experimentalism, Submotion are all about satisfaction and accessibility. To this effect, they have two primary weapons: the added element of dance-floor ready sub-bass and the stunning, soulful vocals of frontwoman Ruby Wood.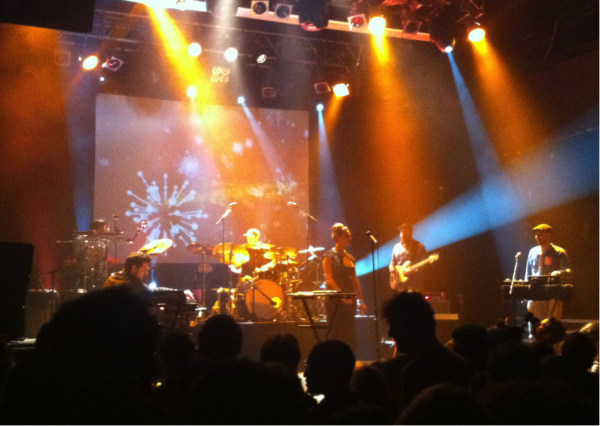 'Blindspot', from Fragments, is the first we see and hear of her – a personal favourite of mine, the piano-led post-dubstep and piercing vocal hook of the "bless us all" refrain have additional impact in a live setting, especially with the solid visuals and mood lighting. As Tommy Evans recently explained in an interview with us, Submo's set themselves apart from their live contemporaries because "they walk the line between acoustic and electronic music". Tonight, the electronic elements, which are front and centre on record, play second fiddle to the live instrumentation of the drum kit, percussion, bass guitar, brass and keys. And the band members look like they're having a blast rocking out in front of a KOKO crowd, which moves up an energy level with each song.
As already noted, tonight's show is in support of the band's new EP, and much of the setlist concerns itself with this newer material. The fidgety house of 'Damn Hot' sounds like a Katy B number, while 'Broken World' sounds has a bit of a tech-house foundation. The highlight of the new 1968 EP, 'Hard To Stay', transpires to be the highlight of tonight's set. It boasts Wood's finest ever melody, synth-laden post-dubstep music that possesses the kind of deep textures that SBTRKT made one-upon-a-time, and ethereal electronic production reminiscent of witch-house favourite Holy Other. Incredible.
Material from their debut Finest Hour, as well as Fragments, adds sufficient balance to the set, and they close with a rave-ready rendition of 'It's Not Me It's You' (from Fragments), which has the whole of the KOKO floor wobbling in glee. It's pretty much the perfect track to end on; a song that contains all the strengths of the Submotion Orchestra live experience – agreeable electro-pop, gritty dub, additional layers of brass and percussion, and a wildly infectious chorus. They may have the support of the modern jazz and experiment electronic music circles, but this is a band more intent on making interesting, dancefloor-friendly pop music. Submotion Orchestra aren't a jazz band toying with electronics and females vocals, like Portico Quartet, but a vocal-led, contemporary pop band who just happen to utilise jazz and electronic elements. Larger venues surely beckon.
Clive Paris Rozario
Check out our interview with Tommy Evans of Submotion Orchestra here…