Hiatus Kaiyote – Live @ Brixton Academy
aaamusic | On 25, Nov 2013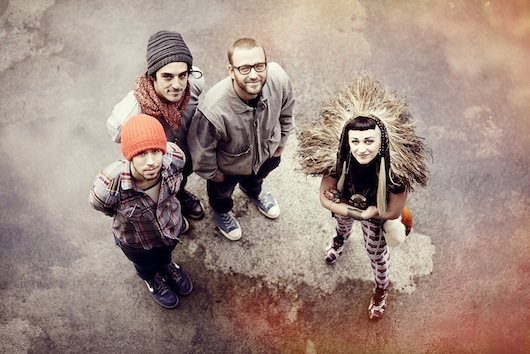 Saturday 23rd December, London
Since forming in 2011, Melbourne-based four-piece Hiatus Kaiyote have done pretty well, to say the very, very, very least. It has helped, of course, that some of the best loved and most trusted artists have helped nudge them onto the world's music radar: Erykah Badu, Questlove from The Roots, Animal Collective, Q-Tip (who appears on an alternative version of fan-favourite 'Nakamarra')…Oh, and Prince. But, the man who has perhaps given them the most exposure in the UK  is Gilles Peterson, who seems to have almost adopted them into his Brownswood family (though the band are signed to Sony imprint Flying Buddha). It is through Peterson's BBC 6 Music  radio show that I first encountered Hiatus Kaiyote's recordings (they got his Album of the Week stamp), and it was at his Worldwide Festival in France, over the summer, that I first caught the band live; Gilles also awarded them Breakthrough Artist of the Year via his Worldwide Awards.
Tonight, fresh from selling out the Village Underground last week, Hiatus are the live support act for Bonobo's massive, sold out show at Brixton Academy. They've only got half an hour, but that's adequate time to put in yet another stellar live performance. Their sound goes down well with the growing audience, which isn't much of a surprise given what they share with the headliner – both acts make a kind of futuristic blend of soul, jazz and electronic music.
Compared to Haitus Kaiyote's sets at both Worldwide and Dour Festival in Belgium (review here…), tonight is considerably more streamlined; less extended jamming and more focus on singer-guitarist Nai Palm. Palm is a uniquely captivating stage presence: confident, amiable, humble, always smiling and dancing. Plus, she's armed with one hell of a voice – a voice that is warm and hearty but able to quiver and pierce when the time is right.
The backing trio of Mavin (keys), Bender (bass) and Moss (drums) together create a heady, hip hop-laced soul sound, with jazz interludes woven throughout, and jittery electronic breaks and drops you'd expect to hear from a Brainfeeder producer. The musicianship is unquestionable – they are so incredibly tight and accomplished that I've had to quadruple check that formation date (just going to check once again). You would think that the intricacy of the layers and the off-kilter time signatures would make for challenging listening, but, rather, they are accessibly melodic in a way that even Bonobo hasn't achieved.
Much of the brief set is naturally made up of material from their brilliant Tawk Tomahawk EP (initially released last year, but re-released this year), with the highlights coming courtesy of 'The World It Softly Lulls' and 'Nakamarra', and despite initial sound issues (both the bass and guitars were a little too low in the mix for the opener), Hiatus Kaiyote do something few supporting bands are able to manage at Brixton Academy: produce a truly engaging set. Come back soon HK.
Clive Paris Rozario