Carla Bley – Live @ The Wigmore Hall
aaamusic | On 27, Nov 2013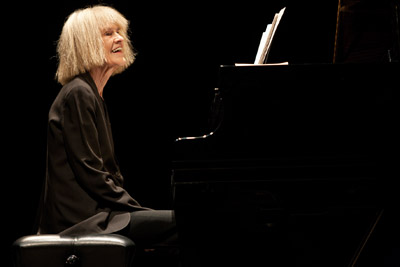 American jazz composer and pianist Carla Bley was influential in the free jazz movement of the 1960s and continues to be warmly received for her accessible traditional songs as much as her experimental and avant-garde work.
At this London Jazz Festival performance she was supported as usual by Steve Swallow (double bass) and Andy Sheppard (tenor and soprano saxophone). Carla refers to the "huge book of music" created by her trio over the last two decades.
There were longer multi part compositions like 'Wild Life' from her Night-Glo album and the elegant and charming 'The Girl Who Cried Champagne'. 'Naked Bridge', taken from the words of surrealistic poet Paul Haines, was commissioned by the festival and, inspired by 'Wedding March' by Felix Mendelssohn, it was also a wedding present for Andy Sheppard. The improvisational 'Misterioso' by Thelonious Monk was the only composition of the evening not by Carla Bley. Norwegian titled 'Utviklingssang'  (Development Song) was their fresh, graceful and hauntingly beautiful arrangement from her Social Studies album.
The evening seemed strange with a song entitled 'Awful Coffee', since the performance was warm, tasteful and very delicate. There were many curious paradoxes. The trio appeared light yet thoughtful, both amusing and serious, and simple as well as complex. Sometimes their songs were slow, but also confident with precise attention to detail and marvellous harmonies. There were also clever and quirky numbers that were great fun. In these intimate surroundings they created fine and sensitive music in what Steve Swallow referred to as the "remarkable acoustics" of Wigmore Hall.
Anthony Weightman