AAA Music Approved: IS TROPICAL
aaamusic | On 11, Dec 2013
AAAmusic: Who are you and where are you from?
We are IS TROPICAL, a trio formed in 2009 in the basement of a squat in South London in order to create enough collective body heat to counteract the sub-zero temperatures.
AAAmusic: What inspired you to get into music?
We're quite schizophrenic in our approach to music making. It's not intentional, but nothing ever comes out similar to the last thing we wrote so to define our genre is difficult. All the songs are quite pop influenced though, in terms of structure and chord patterns. We're inspired by all sorts, I think the first album we all owned by coincidence was 36 Chambers – Wu-Tang, so there's a common interest in loops, samples, and interesting production (we sound nothing like Wu-Tang though). We love The Strokes, Love, Tom Waits, Ratatat, etc.
AAAmusic: What have you done?
So far we've released two LPs, an EP, and various remixes. We were one of the first Western bands to ever play Mongolia. We recently played shows in Ghana, Jakarta, Taipei, Shanghai, Lima, Colombia and Venezuela. Going off the beaten track to play to people who don't usually get the opportunity to watch live bands. The largest impact we've made is probably for our music videos directed by Megaforce for 'The Greeks' and 'Dancing Anymore' which have amassed several million and been banned from YouTube for controversial content.
AAAmusic: What are you like live?
We like to play energetic live shows with atmospheric lighting. We've toured with Mystery Jets, The Big Pink, Egyptian Hip Hop, Crystal Fighters. All the tours we've done have been amazing, but the stand out was probably the Crystal Fighters American tour.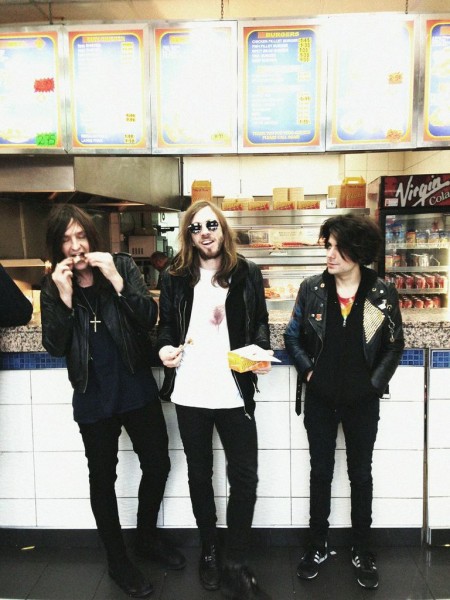 AAAmusic: What makes you different?
When we first started, we used to wear masks on stage to embellish the performance/theatrical element of our live show and to maintain an air of mystery around the band, this appealed to people early on, and it seemed that people wanted to be part of our 'gang'. Slowly but surely we've been picking up people from all over the globe, in destinations that others bands have never even thought about playing. That's what's different about us.
AAAmusic: Physical vs Downloading vs Streaming…How do you listen to music? 
All of the above. I think paying for music is important, but also having the opportunity to preview something by streaming it first can save you some precious pennies.
[Streaming services are] a great means for more people to access and listen to your music, but at the same time they pay the artist pretty much nothing which is a sure fire way to devalue music, and the industry as a whole.
AAAmusic: What have you been listening to?
Noi Kabat are amazing, Fat White Family – champaign holocaust, Gesaffelstein, Factory Floor, Foxygen, Connan Mockasin
AAAmusic: What are your aspirations for the future?
To travel to more untapped destinations, hopefully Jordan in January. We're hoping to do a collaboration with a fashion designer to make IS TROPICAL leather jackets, write new music. etc etc etc.
Questions answered by: Gary Barber of IS TROPICAL…
IS TROPICAL appears alongside Jessie Ware, Mount Kimbie and Eliphino as part of the ASOS Allnighter this Thursday 12th December. To watch click here…