CHIC GAMINE – Closer
aaamusic | On 23, Dec 2013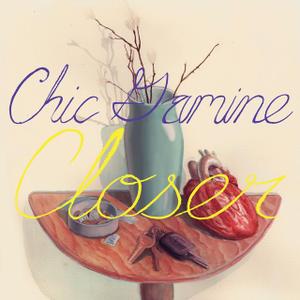 There is such a great feeling of satisfaction felt when you listen to an album that is full to the brim of artistic talent and passion. Chic Gamine's debut album Closer definitely brings that feeling. These girls have soul.
This is the kind of album that makes you want to get up and dance, and you do, before you find yourself questioning why you would be dancing to a song with such emotional lyrics. I guess that's what makes Closer a great album, it confronts sad situations and feelings, yet always has the overriding sense that things are going to get better and the best way to deal is to dance it off.
This mixture has resulted in an album that is full of emotion, presented in a crisp and clear package, where you go through the emotions of the songs without being trapped in a funk, which can so often happen with an emotional album.
I would find myself absent-mindedly nodding my head, tapping my foot, anything to match the infectious beat Chic Gamine produce and by the time the album is finished, a foolish smile would be plastered on my face from the sensation that I'd just listened to something that simply works brilliantly.
The debut single, 'Shake Off Your Worries' opens with the sound of stomping feet. The vocals have a beautiful swing to them and are the main feature of the song, with stomping and clapping being the only other sound until a drum comes in at about 1.40 minutes. With no flash effects so often heard in today's music, this song is a refreshing musical hit.
'Closer' is incredibly catchy yet has a meaningful lyrical message. It is a very solid and well-produced track for the album to be named after and a great introduction to the musical journey Chic Gamine are about to take the listener on.
A band that has been together since 2007, Chic Gamine loosely translates to 'mischievous young things' and consists of four girls showcasing their vocal talent, along with the lone male percussionist. It is hard to believe Closer is a debut album.
These girls sound so confidently perfect and refined that the realisation that this is their first offering is very exciting and the thought of what may be to come is mind-boggling. The album shows the group taking the best of roots, soul, rhythm and blues to produce a new sound that is a pleasure to listen to.
Rachael Pilkington