Wayne Escoffery Quintet – Live @ Ronnie Scott's
aaamusic | On 17, Jan 2014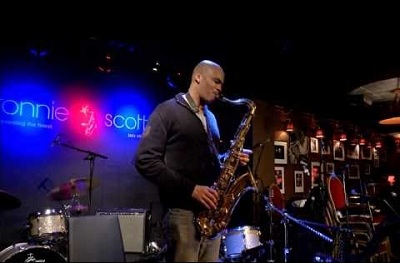 Tuesday January 14th, London
Grammy Award winning tenor saxophonist Wayne Escoffery is based in New York, but he returned to his home town of London for this performance. He looked a very tall and lean figure whilst his jazz style was contemporary, but reminiscent of sax innovators like Joe Henderson and Sam Rivers.
The rest of his quintet comprised Jason Brown (drums), Danny Grissett (piano), Daryl Hall (bass) and Rachel Z (keyboard). All are skilful and individual artists with the ability to play together in a cohesive and complementary way.
'Shapes', written by Tom Harrell, had a Herbie Hancock feel whilst 'Banishment of the Lost Spirit', an emotional reflection of Wayne's father's death, was a soulful  lament. The crisp and passionate 'Gulf of Aqaba' was inspired by visits to Israel. 'World of the Bardo' was fresh and intense and 'Intuition' was another of those thoughtful and intelligent songs that still remained accessible.
Wayne Escoffery is a confident and gifted musician. He creates original and expressive music which has urgency and a spiritual feel. This was a powerful and exciting set from an artist whose broad experience has included playing with many of the jazz greats.
Anthony Weightman