POST WAR GLAMOUR GIRLS – Pink Fur
aaamusic | On 06, Feb 2014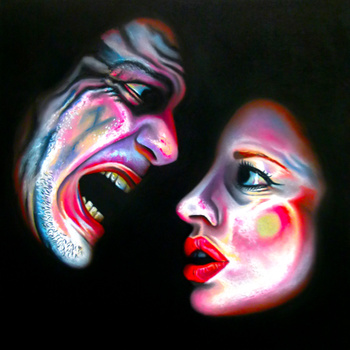 The post-rock project from Leeds – Post War Glamour Girls will release their debut album called Pink Fur next month on  February 14th. Their music is both wild and intellectual at the same time and that's makes a genuine sonic union.
The debut album was recorded at Greenmount Studios with the efforts of Lee Smith and Jamie Lockhart (The Cribs, Forward Russia). Pink Fur will be released on CD and vinyl. Also, a limited edition of 100 records in pink will be issued. The album consists of ten tracks that are quite different, yet still bearing the seal of PWGG's distinguished dark sound.
'Sestra' is the opening track for this album. It is a deep, vibrant masterpiece with female and male vocals arguing delicately. The next 'Little Land' is a tough hoarse ballad with fuzzes and noises. Being one of the highlights of the album, 'Red Terror' is a broad heavy landscape for two voices.
'Service Station Blues' represents an outrageous and rapidly evolving way of performing blues pieces and has a gloomy attitude of the real blues. The single from Pink Fur called 'Lightbulb' is a certain success for the music ambitions of Post War Glamour Girls since it shows their best features in songwriting, playing and vocals. The band can't go wrong if they choose to develop this kind of sound in the future releases. 'Black Dolphin' is an untypically calm piece, with average PWGG sound – still, the band handles it well. 'Jazz Funerals' is another relatively light track with a hard-funk twist. The last track on the album comes under the name of 'Brat'. It shows a wide range of genres and calls up some moments of the first track from this album. So here is a full concept circle from Post War Glamour Girls: the first and the last tracks share common points while their names are translated from Russian as 'Sister' and 'Brother' respectively.
Post War Glamour Girls would be a perfect choice for those moods balancing between despair and a hope for the best. And for those music tastes ranging from The Birthday Party to The Pixies.
Agnessa Yermakova