A CHAT WITH: RUMOURS OF FLEETWOOD MAC
aaamusic | On 10, Feb 2014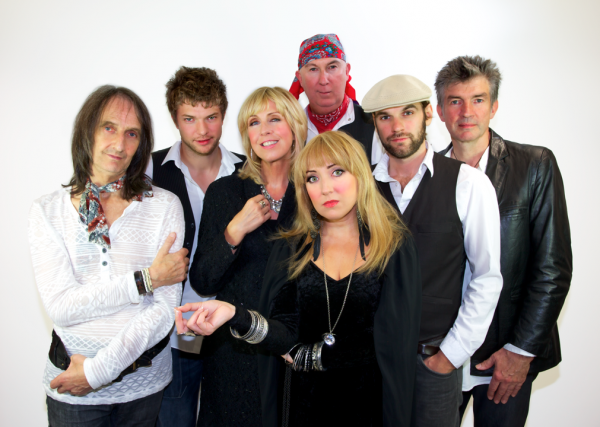 Rumours of Fleetwood Mac successfully recreate the classic blues and rock of the legendary Fleetwood Mac. With over 500 major concert events so far, interviewer Anthony Weightman chatted to their drummer and promoter Alan Cosgrove ahead of their 2014 tour.
Anthony Weightman: Alan, you have a marvellous Liverpudlian accent!
Alan Cosgrove: We're all from the 'cobble stoned grey north.'
Anthony Weightman: My very best wishes to you on your 2014 tour. Would you like to say a few words about how you and your fellow musicians feel about this forthcoming tour?
Alan Cosgrove: It came about more by chance than design. The Rumours of Fleetwood Mac started 14 years ago in a recording studio. As session musicians we were recording an American advertisement for a root beer. We had to sound pretty close to a 70s band called Heart. The producer said "That sounds like Fleetwood Mac." That was the moment. I thought it would be fantastic to do their catalogue. 14 years ago you had bands like Bootleg Beatles and Bjorn Again starting to go to main stages and festivals. That seemed crazy to us. We'd played everything from Chuck Berry to Cliff Richard in our careers. We had associations with Mick Fleetwood from a previous life. We sent him some recordings and he gave the 'thumbs up' and said it was fantastic.
Anthony Weightman: Christine McVie once said "We knew that the music was good. That was what tied us together." Do you feel the same way about the music?
Alan Cosgrove: Definitely. We're nearing five decades of Fleetwood Mac. People always hold up the iconic album as Rumours. But, it started in the Sixties with Peter Green. They were a major force on the blues circuit. They were a very famous and successful band here.
Anthony Weightman: Reading your reviews, it seems you've received quite a bit of praise. You've been described as a classy and credible world class tribute act. Also tight, stunning, convincing, impressive, exciting and emotional. Has it taken a great deal of hard work and dedication to achieve the high standards you set for yourselves?
Alan Cosgrove: Again, where do we get the buzz from? Louise Rogan and Amanda Kostadinov sing the songs of Stevie Nicks and Christine McVie. They have the traits of the original artists in their voices and they've been highly influenced by those artists. It's not about 'mimic'. We hold the music so close and it's dear to us. It was never about me looking like Mick Fleetwood. Fleetwood Mack don't need us to keep their catalogue of songs alive. This was about our 'buzz.'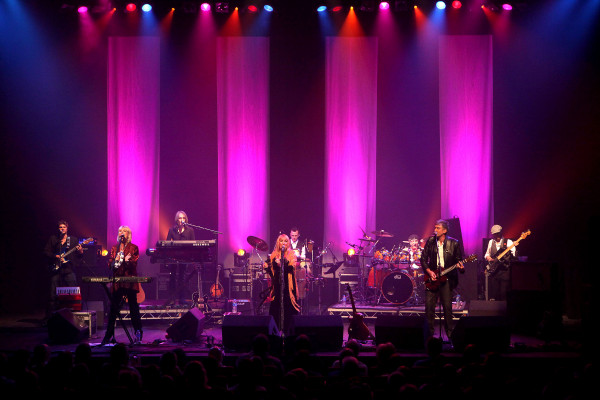 Anthony Weightman: John McVie has a personality that's always interested me because of his visual gestures.  Even without any music or conversation, you could immediately grasp his mood by a smile, or the nudge of an elbow, or a sideways glance, or the lifting of an eyelid. He's absolutely hilarious to watch. Are you a fan?
Alan Cosgrove: I am, yes. You're right about John. He's been in trouble lately with his health but he's back to full recovery now. There was a little blip. Fleetwood Mac have been out touring themselves, so they've had to pull it up a bit. John is a major force. He and Mick Fleetwood were the foundation of the blues band Fleetwood Mac. They were in a band with John Mayall in the Sixties. John is so inventive within the scope of what they do. His heart and roots were in blues like Mick. The beauty was they were able to transcend into mainstream pop.
Anthony Weightman: My last personal experience of Peter Green was when he returned to the limelight at the Jazz Cafe in Camden with Peter Green's Splinter Group. I suppose people remembered the once highly confident and talented showman who had been tragically 'spiked' whilst on tour in Munich and was never really quite the same again. Clearly the audience and band loved him and wanted to encourage him back to good health. What are your personal memories of him?
Alan Cosgrove: We're now in a place where we live in selected downloads. The creativity and output has been watered down over the last forty years. Back then songs were highly relevant and people had something to say. We don't have so much of that today.  Peter's songs were autobiographical really. He was talking about all his demons and sunshine and being in a better place. Those songs were very emotive. What happened to dear Peter was a tragedy because it stifled him and he lost his health. It was lovely to see his spirit in the Splinter Group, but it wasn't what I remember. My memories are still embedded in the vinyl. But, there's still light at the end of the tunnel. Peter is still there.
Anthony Weightman: There's also the Bob Welch  joke about Fleetwood Mac's 'curse of the absconding guitar players.' But, do you think it's just quite normal for guitarists to seek stimulus by playing with different musicians and moving between bands.
Alan Cosgrove: When they're so creative they reach a peak and they're looking for another stimulus and a way to go. A lot of the greats like Eric Clapton did similar things. Neil Young is another one. You thought that you had a job for life, then someone decided to call it a day. If you've so much to say and you're highly relevant you don't care about your record sales. Those are the people who tend to leave testaments and anthologies behind.
Anthony Weightman: Another curious comment Bob Welch made was "Peter Green most definitely haunted them. There were certain guitar licks you didn't try to play." Personally, I think you have to treat a songwriter with respect, but a great song can't really end up like a museum exhibit. What do you think he meant?
Alan Cosgrove: We love the music. We want to interpret that music the best we can. We've also got a little bit of poetic licence because we're not the great Peter Green. The only thing against us is we didn't write the music. We have to be respectful to the albums we love. Music brings you back to a time, a place and an event in your life. Songs are precious. The Rumours album was modelled on the emotions of people living together, loving together and falling out together. It's bitter sweet. It has been a family for many years. It's great to play all the different genres within the catalogue. The indie rock of Lindsey Buckingham, the country rock of Stevie Nicks and the pop of Christine McVie. That's our buzz. To remain as close as possible to the noise.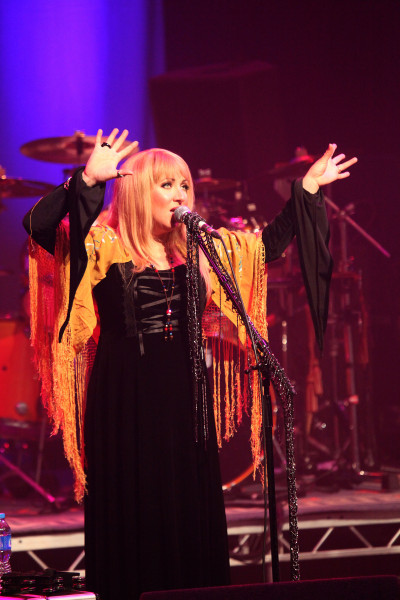 Anthony Weightman: Even more mysterious are these comments by Bob Welch about Fleetwood Mac: "They were on some sort of mystical quest by appointment to Her Majesty. They were given some mission to accomplish. I never quite latched in on exactly what that mission might have been." What do you think he meant by that?
Alan Cosgrove: That's got me baffled!
Anthony Weightman: Well, I think that's the end of that question. Stevie Nicks once said "Fleetwood Mac travelled on beautiful aeroplanes. Stayed in incredible hotels. Had limousines. Had anything they wanted, and it was beautiful." In an idyllic world, are there any things your band would like to add or take away from that list?
Alan Cosgrove: If we could get off the M25 and fly over it, that would be good! Also the long autobahns. No, it's a great gig. It's a top end production. 16 people on the road. 8 on and 8 off the stage. We tour it like a normal band. It's very humbling to think we have capacity audiences. We have our own little family.
Anthony Weightman: Personally, it's tempting to look back sometimes, but would you agree with Stevie Nicks last year that moments from the past can never be recreated?
Alan Cosgrove: Yes, and the older you get that hangs true. You can look back on great times.  Things are firmly left behind for us to remember with a great vibe about it. There's also a whole world of new stuff to be found.
Anthony Weightman: Mick Fleetwood once said about the Fleetwood Mac Tusk album era: "We were out of our minds. We were on top of the world. We were fabulously wealthy. Anything we wanted we could get. We never left the planet but we tried fairly hard to."  I suppose creative people feel rewarded when they return to earth. If Fleetwood Mac had permanently left the planet, do you think that would that have been their downfall?
Alan Cosgrove: Yes. I really do.  Great things in life are inches away from tragedy. In art or music. If it had ended, it would have been a great shame. They're still writing. There's still output and they're very creative. Stevie Nicks had an album out with Dave Stewart from The Eurythmics.
Author: Anthony Weightman
UK 2014 TOUR DATES:
February
Mon 10th Feb Darlington    Civic Theatre   £22.50
Tues 11th Feb Cambridge    Corn Exchange   £22.50
Wed 12th Feb Tunbridge Wells  Assembly Hall   £22.50
Thurs 13th Feb Hayes The Beck Theatre £22.50
Sat 15th Feb     Dorking    Dorking Halls  £22.50
Sun 16th Feb Southend Cliffs Pavilion £23.50
Mon 17th Feb Cardiff St Davids Hall £22.50
Tues 18th Feb Bristol   Colston Hall    £22.50
Thurs 20th Feb Aylesbury      Waterside Theatre   £22.50
Fri 21st Feb London    Barbican   £24.50
Sat 22nd Feb    Salisbury    City Hall £22.50
Mon 24th Feb   Norwich    Theatre Royal £22.50
Tues 25th Feb   King's Lynn  Corn Exchange £22.50
Wed 26th Feb   York    Grand Opera House   £23.50
Fri 28th Feb   Dunfermline    Alhambra Theatre £22.50
March
Sat 1st Mar   Inverness    Eden Court Theatre £23.50
Sun 2nd Mar   Aberdeen   Music Hall   £22.50
Mon 3rd Mar   Gateshead    The Sage    £22.50
Wed 5th Mar Southport Theatre £22.50
Thu 6th Mar    Blackpool    Opera House   £22.50
Fri 7th Mar Watford Colosseum £22.50
Sat 8th Mar Liverpool Philharmonic Hall £22.50
Mon 10th Mar Salford   Lowry   £22.50
Tues 11th Mar   Basingstoke    The Anvil    £22.50
Wed 12th Mar Truro Hall for Cornwall £22.50
Fri 14th Mar Guildford G Live £23.50
Sat 15th Mar   Portsmouth    Guildhall   £22.50
Sun 16th Mar     Dartford   Orchard Theatre  £23.50
Mon 17th Mar   Northampton    Derngate   £23.50
Wed 19th Mar Scunthorpe    Scunthorpe Baths   £22.50
Thu 20th Mar Shrewsbury Theatre Seven £22.50
Fri 21st Mar Plymouth    Pavilions   £22.50
Sat 22nd Mar     Birmingham   Town Hall   £22.50
Sun 23rd Mar Brighton Concorde £22.50