AAA Music Approved: Brother & Bones
aaamusic | On 10, Feb 2014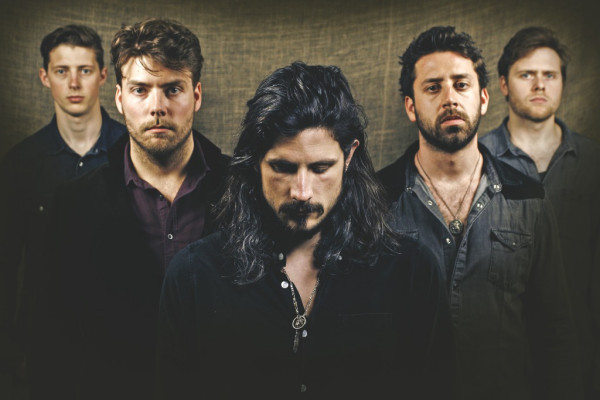 AAAmusic: Who are you and where are you from?
Rich, the main songwriter, and drummer/percussionist Robin are both originally from Cornwall in the South West of England and have played music together for a number of years now in different setups. Rich had a strong idea of were he wanted to take his songs and how he wanted to build a band around the acoustic songs. The rest of the band was built through friends of friends who Rich and Robin had met in London through playing music. We gradually met up in a rehearsal room and began playing and jamming together and it all seemed to click so we carried on making more music.
AAAmusic: What inspired you to get into music?
Everyone in the band grew up with music, with all of our families being music lovers we were all surrounded with our parents' records. I think this inspired us all to become players. We are lucky in the fact that there is a lot of crossover of musical taste within the band, taking influence from a wide range of bands and artists like Bob Dylan, Rage Against The Machine, Stevie Ray Vaughn, Jimi Hendrix, Incubus, Kings Of Leon and the list goes on. We don't set out to consciously make music of a certain style or genre, I think we just make music that we enjoy and feels right and it is the input of all five members and their playing style that creates the music that we make.
AAAmusic: What have you done?
We are most definitely a live band, playing live has become our bread and butter. I think it was the only thing that we could control and push forward in the early days of the band. We have spent a lot of time travelling and playing to as many people as we can and to see the number of people coming to shows gradually grow is a great feeling for us. We have released three EPs so far and although we are proud of all of these releases we are most pleased with the latest release To Be Alive. Each time we go in to record songs we have learnt from previous experiences and each time got closer to how we hear our recordings in our heads.
AAAmusic: What are you like live?
We have spent a lot of time touring and we all love it, it is how we've built the band's sound and how we progress. We are lucky enough to have toured through Europe and have visited the US. The shows have varied from headline tours and support shows with bands such as Ben Howard, Feeder, Dry The River and The Boxer Rebellion.
AAAmusic: What makes you different?
We haven't gone into the band thinking 'how can we make ourselves different' we have just made the music that we are passionate about. I think the rock element of the band but still acoustic guitar led and the endless rhythmic options that are available to us with two drummers are two factors that give us a lot more tools when making music.
AAAmusic: Physical vs Downloading vs Streaming…How do you listen to music?
We are pretty old school as a band in the fact that we all love having something physical when buying music either a CD with all the artwork and inner notes or even more nowadays Vinyl. The fact that Spotify and iTunes have made music more accessible is a good thing I think but I do not think that music should be free it is still a product like any other.
AAAmusic: What have you been listening to?
A lot of different music passes round the band, especially in the van when we are on tour. Some of the more recent artists are: James Blake, Kings Of Leon, George Ezra, Sam Fender (who we are lucky enough to have come and support us at our next London show), Band Of Skulls and Stereophonics to name a few.
AAAmusic: What are your aspirations for the future?
We just want to be able to keep playing music and continue to build our repertoire and write new music. We have a Europe and UK headline tour coming up through February and in-between touring we are doing as much writing and pre-production as we can squeeze in towards developing our first full album. We are also looking forward to a busy summer of festivals.
Questions answered by: Robin Howell Sprent of Brother & Bones…
Brother & Bones  are headlining Scala, London on 12th February followed by a big headline European tour. The band release their new single 'Long Way to Go' on the 24th February…