SIDI TOURÉ – Ay Hora
aaamusic | On 11, Feb 2014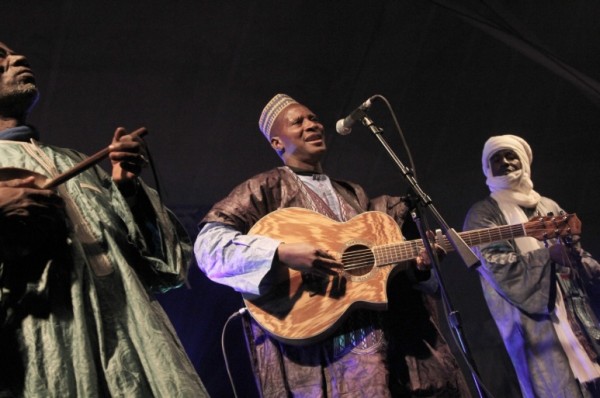 After the death of Ali Farka Touré, another Touré has embodied the voice and the sounds of Mali.
From the same region as his predecessor and playing the same music style, Sidi Touré has lately become the artistic representative of the songhaï blues, a genre which has made Ali Farka Touré one of the most noble figure in the world music panorama.
Like Ali Farka and most of the Malian musicians, Sidi Touré also shares a troubled life. The permanent state of tension, characterising Northern Mali, has compelled him to move abroad not only to publish, but also to play his music. His most recent move to France has helped the guitarist to produce his third album for Thrill Jockey: Alafia (which means 'peace' or 'well-being' in Bambara language).
The work, which has been recorded between Bamako and Nantes, is a direct call to peace and all along its chapters, it talks about universal and hopeful subjects. It aims for harmony; it aims for reconciliation and, first of all, it keeps hoping for a dialogue between cultures.
'Ay Hora', which is the first single extracted from the album, easily fits in the Alafia's mood. The distinct and expressive desert-blues guitar, the reciting voice, the characteristic and pungent n'goni are all peculiar features of Sidi Touré's sound; in this occasion more syncopated and up-tempo than ever.
The song, which directly recalls the traditional pulsating takamba rhythms, enjoys an ad hoc title: my dance. It is indeed an emotionally captivating, exciting and enthralling tune able to carry the listener away from its first beats.
As if Sidi Touré would point out the best way to reach for the craved alafia.
Watch the video below…
Marco Canepari