Fairport Convention – Live @ SJE Arts, Oxford
aaamusic | On 12, Feb 2014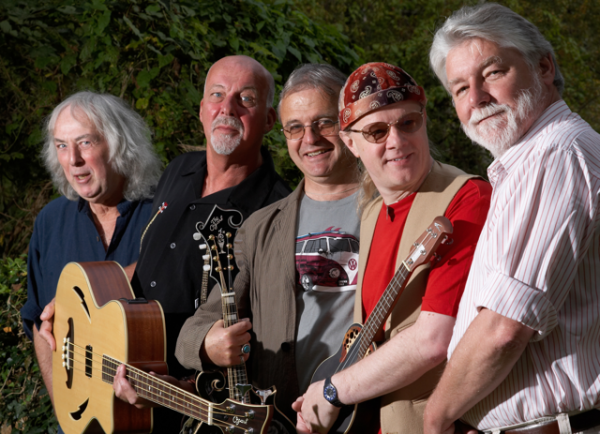 Tuesday 4th February, Oxford
English folk rock band Fairport Convention, formed in the 1960s, are often looked upon as the most important artists in their genre. Their classic album Liege & Lief  was voted by Radio 2 listeners as 'The Most Influential Folk Album of All Time'.
At this SJE performance guest Edwina Hayes, singer songwriter and guitarist, sang fine songs in a clear and distinctive voice. Her optimistic 'Bend In The Road' had a natural charm and soulfulness and 'Leave A Light On For You' was again very personal and intimate. 'From Galway to Graceland' , the Richard Thompson song, told about a love for Elvis Presley whilst 'Speed of the Sound of Loneliness', by John Prine, was delicate and emotional.
"She finds a friend in every place she goes", said Simon Nicol as Edwina left the stage for Fairport, and to quote those classic Sandy Denny lyrics seemed an inevitable comparison. "Stay away from dish washers", warned Dave Pegg, who was unable to play his bass until his recent hand injury had healed. His son Matthew took his place. There followed the lively 'Jewel in the Crown' and the ominous 'Doctor of Physick'. 'Cell Song' told the tragic story of a man in his last hours before execution. 'Matty Groves', the 17th century folk ballad, described an adulterous tryst that ended when the woman's husband found out and killed the pair. 'Meet On The Ledge', their catchy unofficial anthem written by Richard Thompson about his childhood tree, is interpreted by many as a song about the afterlife.
Fairport are still very creative and refreshing. Personally, I don't feel that their tendency to chat in a friendly manner between numbers takes away the momentum to their shows, though some reviewers believe this to be so.  'Who Knows Where The Time Goes?', my personal highlight of the evening, was one of Sandy Denny's exquisitely beautiful songs. It was breathtaking.
Fairport Convention has won a coveted BBC Lifetime Achievement Award and later this year they hope to record their first new album for some time.
Anthony Weightman