BAP KENNEDY – Let's Start Again
aaamusic | On 14, Feb 2014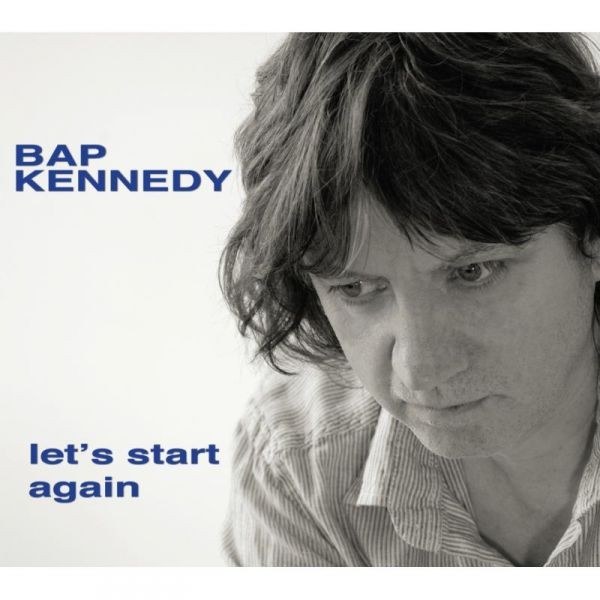 Gifted Irish singer songwriter Bap Kennedy is well known for his band Energy Orchard and the song 'Moonlight Kiss' from the soundtrack to the film Serendipity. He's written and performed songs with Steve Earle and Van Morrison and his solo albums include Lonely Street, Domestic Blues,and The Big Picture.
His album Let's Start Again, released on 6th February, 2014 on Lonely Street Discs, was recorded in Northern Ireland. It's a good, versatile album that merges the sounds of country, Celtic and Americana.
His band comprises Brenda Kennedy (electric bass & vocals), John Fitzpatrick (fiddle), Gordy McAllister (guitar),  Richard Nelson (pedal steel), John McCullough (keyboard),  Noel Lenaghan (mandolin), Rab Bennet (drums), Trevor Dyer (bass) and Vinty Gilbert (banjo).
Title track 'Let's Start Again' is a reflective song about romance and yearning whilst the optimistic 'Revelation Blues' is crisp, fast and up-tempo. 'King of Mexico' illustrates his love of Latin music with a gentle mariachi folk beat and the retro 60's 'Radio Waves' has a steel guitar and sha-la chorus. Very different in style are the country waltz of 'Let It Go' ,the relaxed calypso of 'Under My Wing' and the jazzy Texan swing of 'Heart Trouble'.
With his warm, laid back vocals Bap has a natural and inviting style. This is a likeable and soothing album with creative and inventive melodies. Bap has proved himself a mature teller of timeless stories.
Anthony Weightman