TAKING BACK SUNDAY – Flicker, Fade
aaamusic | On 23, Feb 2014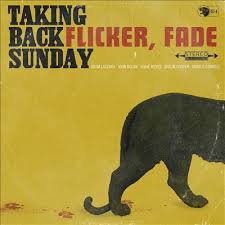 Taking Back Sunday hail from Amityville, NY state and formed in 1999. The band are a mixture of pop punk , with a splash of hardcore. Their first and most notable album Tell All Your Friends saw them soar to the top of charts worldwide with singles such as 'Cute Without The E'.
Onto the present day now, and Taking Back Sunday pop up here and there on small festival bills, or on tours and now they are back with their 2014 offering Happiness Is, which is being released through Hopeless Records.
From the new album comes lead single 'Flicker, Fade', which is full of, in true Taking Back Sunday style, the infectious guitar hooks and stand out vocals from lead singer Adam Lazzara.
As the band take to the road with fellow countrymen The Used soon on a spring US tour, their album Happiness Is and their brilliantly easy-to-sing-along-to songs are sure to be sung back at a moment's notice.
Lashing out with crashing symbols and pounding drums from the start, flowing into Lazzara's well known style of vocals; the song is excellent from start to finish. 'Flicker, Fade' is a very catchy tune with easy to connect with lyrics making a great song. With the (almost) overwhelming build up towards the ending, filled with more crashing and smashing drums, 'Flicker, Fade' it does not.
Taking back Sunday are a great band; expect really good songs to come from Happiness Is as this does not disappoint.
Samantha Panasuik