Rumours Of Fleetwood Mac – Live @ Aylesbury Waterside Theatre
aaamusic | On 24, Feb 2014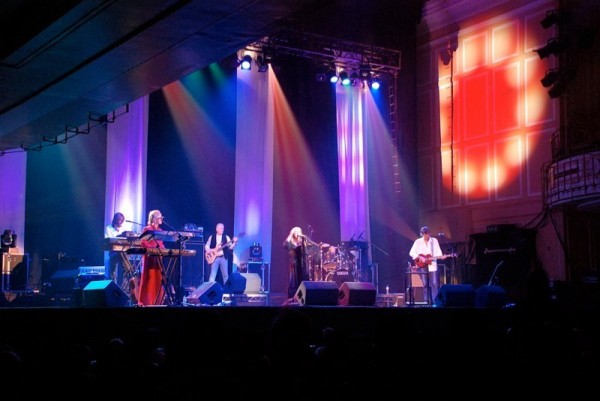 Thursday 20th February, Aylesbury
Beyond the sixties, Fleetwood Mac evolved from being an inspirational male blues band to a highly successful rock group with two female vocalists. Critically acclaimed Rumours of Fleetwood Mac recreate the classic songs of  Fleetwood Mac and have performed hundreds of major concerts so far.
This evening began with a filmed endorsement from Mick Fleetwood. The soft rock opening 'Gypsy' was followed by the upbeat 'Little Lies', a melodic 'Silver Springs' and 'Don't Stop', used by candidate Bill Clinton for his first presidential campaign. In a simple guitar and piano performance of 'Songbird', Amanda Kostadinov sung soulfully as Christine McVie. Louise Rogan, a convincing imitator of Stevie Nicks, also sung with a strong voice throughout the set.  
Revisiting Peter Green's early blues era, Dave Goldberg and Alan Hughes played 'Albatross', with its beautiful instrumental and soft drum beat. The lively 'Black Magic Woman' was often played by Fleetwood Mac as a lengthy mid concert jam in the seventies. An excellent 'Man of the World' told the weary tale about a man who had everything except the companion he yearned for and the vibrant 'Oh Well", the classically influenced electric blues song, was full of energy.                              
The celebratory songs of Rumours of Fleetwood Mac are raw and passionate like the originals, with strong harmonies and tight riffs.  This is a modest and respectful  band that gives an exhilarating performance. Beyond the UK, European and American tour dates are yet to be announced for 2014.
Anthony Weightman