Sponsored Video: Foot Locker & adidas presents Originals ZX Flux
aaamusic | On 16, Apr 2014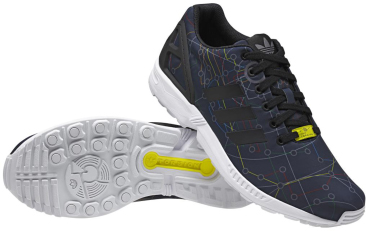 How do adidas keep doing it? Sublime sneaker after sublime sneaker. adidas have teamed up yet again with Foot Locker to deliver an exiting new exclusive: the Originals ZX Flux, the newest member of the ZX family.
The idea this time round is to combine the famous, omnipresent three stripes (so simple, so familiar, yet somehow so classy) with a stylised running trainer design. For adidas experts who are craving even more detail, the sneaker fuses the original adidas panache with the iconic Torison midsole to make a distinctive product that is both progressive and trendy without losing that classic edge.
Thanks to the midsole, these sneakers are extraordinarily comfortable. And due to some ingenious, digital print design work, the colourings and profile are otherworldly.
Foot Locker, the high street home of streetwise sneakers, is the perfect match for the Originals ZX Flux products, as both brands excel at making street chic accessible. And, just to make doubly sure you've got it, these trainers are EXCLUSIVE to Foot Locker – i.e. aren't available anywhere else.
Check out the video below to see the Originals ZX Flux sneakers arriving at Footlocker. The clip shows a Foot Locker worker bee transporting the shoes directly to a waiting customer in a store. The journey involves lots of mind melting, surreal changes of scenery colour and a wicked dancer testing out the shoes via some inspired street moves. This is all soundtrack by a polished, club-ready dubstep tune, spruced up with some futuristic instrumental hip hop. Lovely. Watch here:
This post has been sponsored by: adidas + Foot Locker