How To Dress Well + Koreless – Live @ 100 Club
aaamusic | On 24, Apr 2014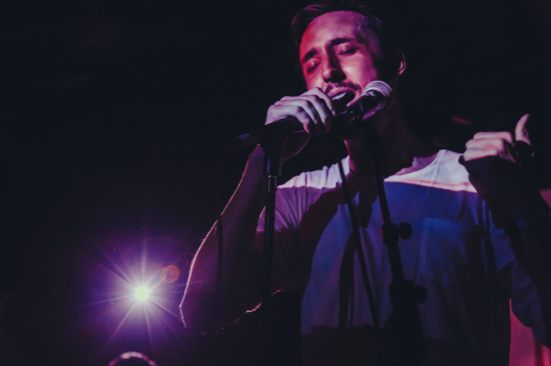 Wednesday 23rd April, London
The ever-dependable Converse Gigs @ 100 Club series has been generating expertly curated and timely events since Converse helped save this celebrated venue in 2011, but none more boundary-pushing than tonight's pairing of How To Dress Well and Koreless.
Welsh producer Koreless – aka Lewis Roberts – has been my one of my very favourite UK electronic artist ever since his hypnotic, beat-less set closed out Worldwide Festival 2012 (in the South of France…by the sea…as the sun was coming up!) – it blew my previously beat-orientated mind. Although Roberts made a name for himself as a chilled 2-step producer and adept remixer (including a blissful remix of How To Dress Well's 'Cold Nites'), it was last year's Yungen EP that cemented his reputation as a unique orchestrator of minimalist soundscapes.
Tonight's short live set (just half an hour) is drawn largely from Yungen, and, as a sparse intro kicks things off, I was momentarily anxious that the chattering audience of competition winners would fail to engage with Koreless' subtleties. But as the delicate synths of EP closer 'Never' start to unfurl, the crowd gradually hushes and focuses in on Roberts. The occasional technical hitch from his mixing desk doesn't detract from the warm, dreamlike atmosphere that Koreless' productions induce – at once both ambient and dramatic. There is 'Last Remnants', which is like Lapalux minus the instrumental hip hop, the broken vocal samples of chillwave-flavoured 'Ivana', and the closing highlight of 'Sun', an otherworldly composition which has a real post-rock sensibility and brings to mind the 'shoegaze electronia' of  Apparat. Absolutely beautiful.
How To Dress Well – aka Tom Krell, the man with the incredible voice – is in town for the first time since his Field Day 2013 set. More so than ever before, there seems to be a real buzz around him and his upcoming record, What Is This Heart?, due in June. Perhaps it's because intelligent, bedroom RnB has blown up in the past couple of years, or perhaps it's because the two new tracks he recently dropped are polished with a new, ever-so-slightly more accessible sheen. Either way, this feels like HTDW's moment.
Backed by a three piece band, including Broken Social Scene drummer Justin Peroff, Krell takes centre stage, adjusting the two microphone stands (one mic for clean singing, one for the echo effects) to reach his considerable height. HTDW is a man of oddly conflicting qualities: a Philosophy academic, he comes across as an agitated, geek-like outsider, yet, dressed in street clothes and exclaiming "yo!" a lot, he also seems like a smoothly self-assured hipster. His confidence as a performer has certainly grown since his early days singing solo over his recorded tracks, probably due to the presence of his full band, who add real depth to his music; the songs have much more impact live than on record.
Tonight's setlist is predominantly made up of new material, most of which we have yet to hear. The light, retro-techno of 'Very Best Friend' also features Krell's most overtly commercial RnB chorus (what a hook!), 'Face Again' is dark and edgy with the distorted vocals adding Weeknd vibes, while 'Childhood Faith In Love (Everything Must Change, Everything Must Stay The Same)' is, as Krell refers to it, his "pop punk song", inspired by his love of The Startling Line, Taking Back Sunday and Saves The Day. Naturally, the most powerful moments of the show come from the tracks the audience already know and love. Both new singles, 'Repeat Pleasure' and 'Words I Don't Remember', are thrilling, particularly the epic crescendo of the latter, while older tracks 'Cold Nites' and 'Set It Right' are drama-filled, ethereal masterpieces, both sounding much heavier tonight that past performances. The highlight comes in the form of the one and only track showcased from HTDW's first album, the moving ballad 'Suicide Dream 1', which Krell explains is his favourite song to perform, and which he does so with unnerving emotion.
To say tonight's set is not without its hitches would be an understatement. Frustratingly, Krell and his band are hit by a tirade of problems: initial minor setbacks, such as a late arrival to the stage and first song sound issues, are replaced by the more extreme setbacks of a mid-set fire alarm, which results in a 15 minute evacuation of everyone in attendance, followed immediately by 10 minutes of technical difficulties involving a lack of power. But How To Dress Well takes it all with grace – in between joking with the crowd, he sings two unprepared a cappella songs. The first is a morbid lullaby he had recently conjured up entitled 'The Bad Shit Outweighs The Gladness' and the second is a hilarious but raw rendition of Whitney Houston's 'I Will Always Love You', which Krell explains he never thought he'd actually get the opportunity to sing live. These impromptu, fragile a cappellas will be what linger in the mind long after this show – they displayed Krell's astonishing falsetto, along with his passion for his craft, clearer than any other track performed tonight.
How To Dress Well's experimental take on conventional RnB pop music is brilliant, but what truly sets him apart from other contemporaries, both of the experimental scenes (Holy Other, Balam Acab, XXYYXX, etc) and pop scenes (The Weeknd, Frank Ocean, etc), is his magnificent voice – one of the finest voices to ever reach my ears.
Review: Clive Paris Rozario
Photos: Andrew Whitton