La Chiva Gantiva – Live @ The Jazz Cafe
aaamusic | On 03, May 2014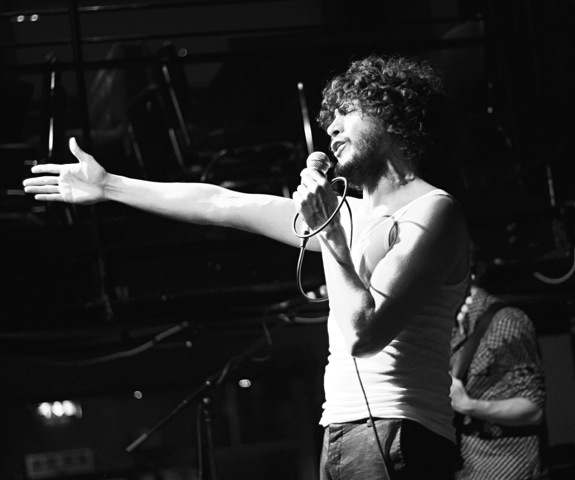 You won't even need to drink a Red Bull to jump and shout all night. La Chiva Gantiva is already a surrogate of caffeine, taurine and vitamin, which will shock you with no compromises. They play for a little more than an hour, but in a much shorter interval, they are able to turn the world upside down, to inflame the audience and to attract it into a spiral of rhythms and dances.
The credit for their unstoppable drive belongs not only to their feisty character, but also to their skills: they are both overwhelming stage animals and dexterous musicians. And their recent show at The Jazz Cafe is an all-involving example. Unfortunately, because of the conjunction with the tube strike, the public is not copious, but that goes in favour of both the extemporaneous and the practiced dancers which rapidly take possession of the dance-floor under the stage.
With a set list that prefers and promotes their recently published album Vivo, the multicultural and stateless ensemble does justice to an opera which sounds sometimes compelled, restricted in the phonographic support dimension. Its chosen dimension is the live one. In flesh and blood, rhythm and energy, La Chiva Gantiva can express their vitality; they can give their best. They need just few beats of "Vivo" to fire up the night, and then it's all downhill. 'Para Arriba', 'Estrenand'o and 'Pigeon' are what they need to lead off the dance. The explosive charge of their singer, the Colombian born Rafael Espinel, does the rest.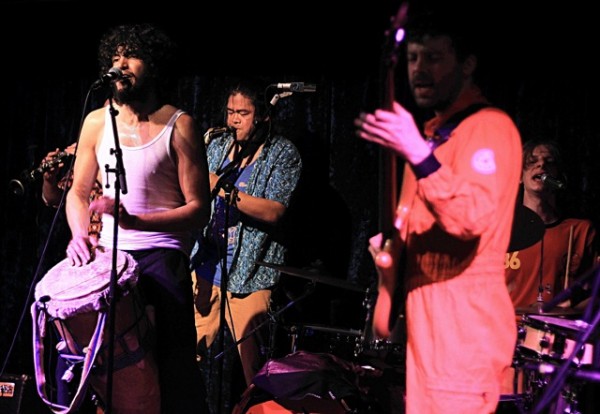 The gig is a constant invitation to let the mind and the body loose, to go wild with an earthly, untamed sound. Some favorites from their first work Pelao, like 'Por Eso Cant'o, 'Chofe'r and 'Pa Ke Gozen' alternate themselves to more recent spiced up songs like 'La Pecosa', 'Wepaje' and 'El Valor'. No worries, anxiety or complications. A La Chiva Gantiva gig bursts of happiness from every pore.
Next to Rafael also the light-hearted seriousness of Felipe Deckers, the skilled guitar player; the alluring movements of Natalia the other Colombian representative of the band and the amusing duet formed by the Vietnamese Tuan Ho Duc and Belgian clarinetist Florian Doucet show how much cohesive is the band's sound and being carried away is unavoidable.
No matter how fit you are, keeping up with the septet is a both strenuous and liberating physical exercise. Step after step, move after move, drop of sweat after drop of sweat, the explosive mixture of rock, funk and more characteristic Afro-beat and Latin rhythms trigger the time bomb, which punctually explodes with the final 'La Chiva'.
So, unless you're a decaffeinate fan, catch them during their ongoing world tour.
Marco Canepari