Ava Luna + Playlounge + Axes – Live @ Birthdays
aaamusic | On 05, May 2014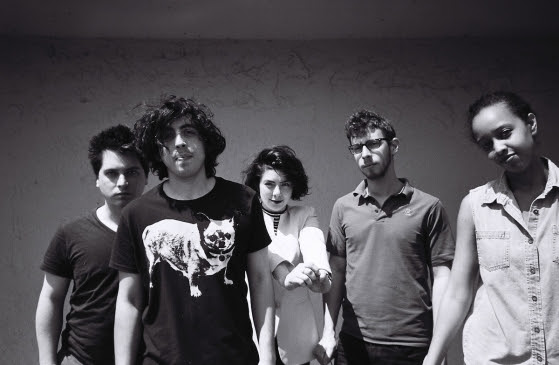 Monday 28th April, London
On Monday night I strolled down to Birthdays in Dalston to catch a glimpse of American band Ava Luna on the London leg of their European tour. After an abysmal journey due to tube strike issues and my own incompetence, I was hoping to be thoroughly cheered up by the evening of music that lay ahead. Ava Luna topped a bill which featured support from the highly experimental instrumental band Axes and two piece punk outfit Playlounge. I'd previously written a review of Ava Luna's album Electric Balloon (click here to read that review…) and was keen to see how the band transferred their sound from studio to stage.
Opening up to a disappointingly empty room were four-piece instrumentalists Axes, who I had struggled to find when doing my regular snooping of bands before the gig due to their unfortunately common name. The level of creativity lacking from the name was more than made up for by the band's enthusiasm and experimental nature. They mastered the arts of dynamic contrast, rhythmic changes and complex melodies to such a level that even Zappa and Brubeck would have been impressed. Unfortunately their sound was somewhat hampered when diving into the more hectic sections of the songs and I wasn't quite able to distinguish whether this was due to guitar-playing being not quite tight enough or due to a noise-fuelled sound technician but I wouldn't feel at ease ultimately blaming either. With boundless energy and an incredibly intelligent concept, Axes got the evening started with a bang.
Following this came the high-octane duo Playlounge who had all the raw emotion of punk with the added musicality of some of the more technically impressive grunge and lo-fi bands. I've never failed to be impressed by a drummer who sings lead vocals as it's a skill that has always been so far from my reach but Saam of Playlounge was able to aptly combine complex rhythms with a powerful voice that rapidly filled the air. At times the music felt slightly rushed but that only helped to add to the DIY ethos the pair had set out and the chemistry between Saam and guitarist Laurie was evident throughout as they remained in sync whilst constantly blasting their wall of sound into the ears of the ever-growing audience. I was surprised by the polite manner of Saam each time he spoke to the audience as he came across in a much more mature manner than vocalists of similar bands have done over the years. That being said, their sheer energy and power managed to produce a cacophony of noise that could leave no-one questioning their passion for the music.
And so finally Ava Luna took to the stage, having travelled considerably further than the two previous bands to the Dalston basement. Their off-beat sound matched by their effortlessly trendy swagger, it was easy to see why they've built up enough of a fan-base to tour other nations. Vocalist Carlos Hernandez had an urgent delivery that was so intense it felt as if he was singing for his soul. The harmonies effortlessly added to the appeal of the sound and 'Daydream' flew by all too quickly – the song standing out the most for me from that evening's performance as its catchy hook has still yet to leave my frontal lobe. They had the ability to perform to the same standard as on the album whilst having a live appeal through their natural ability to impress. I was gutted that I had to leave before the end of the evening's entertainment (thanks again RMT) but there was no way that Ava Luna could have done any wrong after the flawless performance I saw before leaving. They were a complete unit, a band of kindred spirits able to pull together as one to make the music that they genuinely wanted to. To them, it came naturally and to the audience it could do nothing but impress.
Ciaran Steward
Check out Ciaran's review of Ava Luna's album,Electric Balloon, here…