Electric Elephant 2014 – Boat Parties Revealed
aaamusic | On 07, May 2014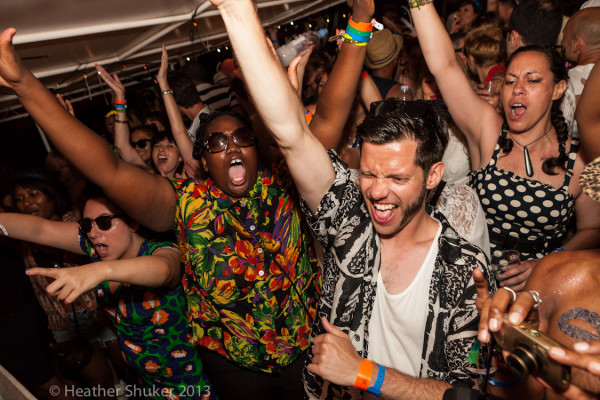 Electric Elephant 2014 – Boat Parties Revealed
Electric Elephant announce their boat party programming for 2014, tickets go on sale midday Tuesday 29th April.
Horse Meat Disco, Lowlife, Idiots Are Winning and The Unabombers' own Electric Chair all host sublime Adriatic odysseys.
Electric Elephant curates one of the year's most inspiring lineups on the Adriatic coastline this summer.
Festival returns for its 7th year from Thursday 10th – Monday 14th July at The Garden Tisno, Croatia.
For anyone coming to this summer's Electric Elephant, the legendary boat parties are an essential element of the overall festival. Set on The Argonaughty, the iconic vessel cruises across crystal clear Adriatic waters through the afternoon and evening, sound-tracked by everything from deep dubby house, disco, Balearic beats and soul. Under the sun and stars, beyond the islands and out into the open, the parties are a quintessential Croatian experience.
Electric Elephant is now proud to announce this year's host and guests, with tickets going on sale Tuesday 29th April at midday.
Thursday 2pm – 6pm
Horse Meat Disco
Thursday 7pm – 11pm
WOnK: Soul Mekanik Vs James Holroyd & Justin Robertson
***
Friday 2pm – 6pm
Pirates Of The Adriatic with Krysko, Stevie Kotey + very special guest
Friday 7pm – 11pm
Electric Chair with The Unabombers
***
Saturday 2pm – 6pm
Cruising with Kabal & Ashley Beedle
Saturday 7pm – 11pm
Lowlife with Bill Brewster & Frank Broughton
***
Sunday 2pm – 6pm
Down To The Sea & Back with Kelvin Andrews & Balearic Mike
Sunday 7pm – 11pm
Idiots Are Winning with Chris Duckenfield, Jake Manders, Louis Finch & Will TRAMP!
***
Monday 2pm – 6pm
Monday Mystery Voyage – lineup coming soon
Monday 7pm – 11pm
The Electric Chair Farewell Cruise with The Unabombers & friends
An intimate odyssey set in a region of true beauty, the festival is one of Croatia's founding events. Following on from last year's eclectic lineup, Electric Elephant is once more offering a sublimely diverse range of sounds across the electronic spectrum. Set near the idyllic town of Tisno, it is a celebration of amazing music and the glorious sun, an intimate paean to dancing the night away under a starlit sky until dawn with like-minded souls from around the world.
Electric Elephant – The Story So Far…
Tom Findlay (Groove Armada) DJ set
Simian Mobile Disco (DJ set)
Derrick May
Francois K
Norman Jay (Good Times)
Chez Damier
Motor City Drum Ensemble
Horse Meat Disco
FCL
Prosumer
Justin Robertson
Munk
Emperor Machine
Ashley Beedle
Soul Jazz Soundsystem
Awesome Tapes From Africa
Rahaan
Max Essa
Begin
The Numero Group
Chris Duckenfield
Sean Johnston (Hardway Bros./ALFOS)
Unabombers
Stevie Kotey (Ambassadors Reception)
Ruf Dug
Lowlife
Down To The Sea & Back – Kelvin Andrews & Balearic Mike
Kabal – Winston & Pipes
Idiots Are Winning – Jake Manders & Louis Finch
Thunder
wOnK (Soul Mekanik)
Krysko
Man Power (Hivern/Correspondant)
2 Billion Beats
Will TRAMP!
Neil Diablo
Il Bosco (Red Laser Records)
Matt Ward (Wet Play/Piccadilly Records)
Joe's Bakery
Hustle DJs
Kosmonaut
Billy Scurry
Leon Sweet
Nick Acid Tree
Jan Hammered
Steve O'Connor
Martin Davies
Home Grown DJs
Ola
Engine DJs
Funky Navigation
Civilisation DJs
Darren Stewart
Tickets to Electric Elephant cost £120. Don't forget Double Whammy tickets are available for Electric Elephant and fellow Croatian session The Garden Festival for just £150 for both festivals. Argonaughty boat and Barbarella's club parties will be revealed soon.
Electric Elephant
Thurs 10th – Mon 14th July 2014
@ The Garden Tisno, Petrica Glava 34, 22240, Tisno, Croatia
Full weekend tickets: £120
Double Whammy pass with Electric Elephant and The Garden Festival: £150
Boat party tickets: http://www.skiddle.com/groups/electricelephantfestival/events.html
www.electricelephant.co.uk