WHITE FANG – Full Time Freaks
aaamusic | On 10, May 2014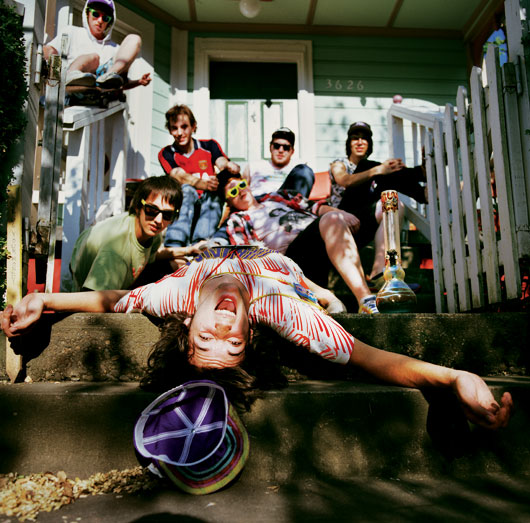 White Fang are a four-piece band from Portland, distinguished for their recognisable sound combining a variety of closely related genres. Their sonics consist of thick guitars and mutilated vocals – all that making music reminiscent of tough garage and stoner rock anthems. White Fang scheduled the release of their new album Full Time Freaks for May 5, via Metal Postcard Records.
The first track 'Gonna Get It' is a loud and rather monotonous singalong, whereas the following 'Shut Up' is more vibrant and groovy. 'Goodbye To Bedtime' is a noisy protest against the swirling routine. After this comes the peaceful instrumental track 'Talkin' To The Apple'. White Fang decided to implement a few elements of oldschool synth-rock into their sound, which are particularly distinctive on the song 'Full Time Freaks', the name granted to the whole album. 'High On Life' is a simple, optimistic track the perfect background for a lazy summer day. 'Talkin' To Gary On The Corner' is a heartfelt track that recalls the Britpop era. The finalising 'Before I Pass Out' carries some funny yet philosophic confessions within a soft-rock entourage.
The punkish revelations of White Fang's lyrics and their messy sound will serve as a solid basis for evolving a new genre somewhere between 'summer stoner' and 'winter cold low-fi'. Still, it feels more like White Fang are just playing the music they really want to play rather than attempting to achieve any music titles and ranks. And that approach adds another plus to their straightforward, noisy sound.
Agnessa Yermakova