ALAN BROADBENT AND NDR BIGBAND – America The Beautiful
aaamusic | On 19, May 2014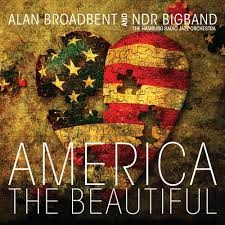 Composer and jazz pianist Alan Broadbent has twice won a Grammy Award. He's well known for his collaborations with artists like Warne Marsh, Bud Shank, Chet Baker, Irene Kral, Charlie Haden and Sheila Jordan . He was pianist on Natalie Cole's Unforgettable album and conductor on Diana Krall's Live In Paris DVD. He also wrote string arrangements for Sir Paul McCartney's Grammy winning album Kisses On The Bottom.
His album America The Beautiful, supported by Hamburg's NDR Bigband, was released on Jan Matthies Records on April 23, 2014. It's his way of recognising the spirit of the country and people who have given him a life in music.
Swinging opener 'Between The Lines' is a personal interpretation of the Dizzy Gillespie and Charlie Parker introduction to 'All The Things You Are'. 'Sonata For Swee'Pea' was inspired by gifted artist Billy Strayhorn. The rich and soulful 'Woody 'N' Me' is a tribute to experimental artist Woody Herman, whilst in 'Covenant' Alan uses different musical textures helped by his captivating orchestra. In 'The Long White Cloud' he recalls the view from the boat he boarded to take him away from his native New Zealand.
Alan is a respected and talented artist with strong melodic and harmonic abilities together with a fascination for reinterpreting standards. He says, "I have an aversion to being clever. I prefer the music coming out of me to be free of affectation and manipulation, yet with an emotional curve evolving out of the music and my feelings." Alan's compositions are certainly warm, moving, spontaneous and reflect his love of  improvisation.
Anthony Weightman