AAA Music Approved: Josephine and The Artizans
aaamusic | On 02, Jun 2014
AAAmusic: Who are you and where are you from?
We are Josephine and The Artizans – a 10 piece Hip-Hopera band from London, which consists of classical strings, operatic vocals, heavy beats, and energetic rap.
AAAmusic: What inspired you to get into music?
The original idea came to me whilst I was studying at University of Westminster. I have been classically trained in voice since I was 11 but I decided to study a commercial/contemporary music course so I could learn how to compose and become a more versatile vocalist. However, whilst I was there I found I didn't fit into any particular pop genre. So, that's when it hit me, I could use my classical training and collaborate with the pop/rock musicians I was currently studying with, that's where I found guitarist Gregory Madge.
The concept only grew stronger in my mind as I noticed how DJs and Hip Hop artists were using famous classical works as samples or synth strings in their tracks, but never the classical voice! Although, I do not see myself as a classical crossover artist such as Katherine Jenkins, but what we like to call a Hip-hopera troupe.
AAAmusic: What have you done?
We've released two singles, which have both been featured on stations such as BBC 6 Music, Premier Radio, and Amazing Radio. However, our new EP Dies Irae, which will be released on Monday 2nd June, is something we have been working towards for a while and we are really proud of it! We've really pushed ourselves in terms of composition and are telling a story throughout the EP. It was a huge task, we even produced the record ourselves so we could bring our vision to life. I think we've achieved it with this one.
AAAmusic: What are you like live?
That's a tough one. We've had so many great experiences. For me, I would say performing on the main stages at Brownstock and Galtres Festival supporting such huge acts as Maximo Park, The Stranglers, Tom Odell, Professor Green and The Fratellis. We've also headlined at O2 Islington, Ronnie Scotts, Bush Hall and Jazz Cafe  in the past six months.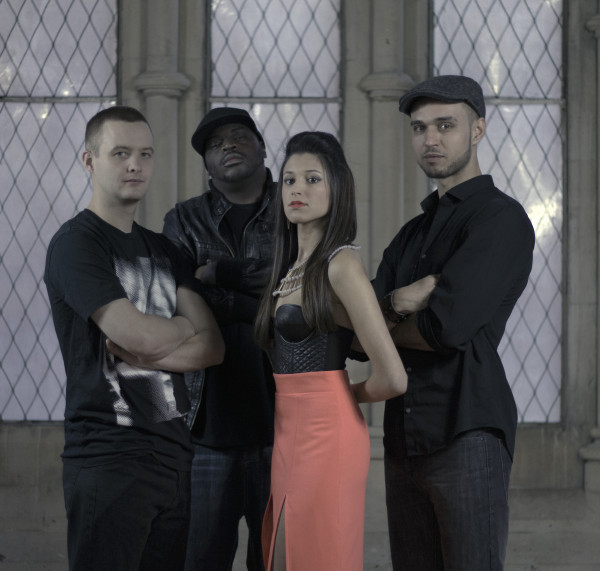 AAAmusic: What makes you different?
For years, people have been becoming more and more varied in their tastes, so I decided to create something which is neither classical nor commercial, but a blend of both. For me, I aim to bring classical music to a younger audience, but interestingly what we have noticed happening at the same time is the classical element in our music has attracted an older scene too that in turn now love and enjoy the rap element.
AAAmusic: Physical vs Downloading vs Streaming…How do you listen to music?
Well, personally, I think they are both important to a music consumer as they both give you instant gratification. Even though Spotify and iTunes don't give you the physical satisfaction, they are immediately available for you to listen to, plus you can demo play the tracks before you purchase them.
However, as an artist we find that audience members at our shows and festivals would like to take a CD home with them rather than remembering the name of the track and artist after a few drinks. It's even more important that you, as an artist, provide for your audience and if you are touring – and it's likely that a particular audience won't see you for a while – that you provide them with a physical memory of your sound to entice them to travel and watch you again.
AAAmusic: What have you been listening to?
We get asked this a lot and our answer is the reason behind why we chose our name. The word 'Artizan' means someone who has a specific technique and skill in their craft and that's what all of my musicians have. We all have different tastes and all enjoy listening to different genres of music every day. However, we wouldn't say our concept is influenced by any particular artist or band. We combine our individual skills and our musical upbringings and merge our ideas together.
But if I have to pick a band, I would have to say Muse – especially their incredibly epic album The Resistance with their own beautiful three part symphony, 'Exogenesis'.
AAAmusic: What are your aspirations for the future?
Well, we are releasing our Dies Irae EP with a new music video (see below), which was so much fun shooting. This time of year is always so exciting as we have already been asked to perform at a lot of great festivals this summer, so we can't wait for the season to start.
We just want to keep expanding our fan base – we're lucky that there seems to be interest from all ages in our music. We would like to broaden people's musical horizons and demonstrate how music can be so different and yet so familiar. So, we just want to continue progressing and promoting our signature Hip-Hopera sound and for JATA to be part of music's future.
Questions answered by: Josephine Permaul (lead vocals) of Josephine and The Artizans…
The Dies Irae EP is out today. Watch the new official video for the title track below:
Check our out review of JATA's single 'Let Me Go' from earlier this year here…