Circa Waves – Live @ The Lexington
aaamusic | On 02, Jun 2014
Wednesday 28th May, London
Circa Waves' support tonight are fellow Liverpudlians Death At Sea, a four piece band made up of two guitarists, a bassist and drummer. They open up with a shady riff supported by inquisitive lyrics ("show me your darker side") echoing back to the scuzzy-ness of their guitars. Their music is rocky, but heavy enough to define them from your typical indie boy band. Each song starts with such intent, their third song is no exception as they sing, "cool like you", the vocal duties being shared between the frontman and the bassist, their tone youthful and the lead singer's howl reminiscent of The Vines' Craig Nicholls. They certainly have the look of a successful band with prospects; each member is dressed in black and, of course ,the leather and denim jackets are at the ready. The group end their set with their new single 'Glimmer' – a song with a gloomy undercurrent focused on the infatuations of love.
The cosy capacity of The Lexington is hard to ignore, as tonight's show is sold out – not a gap in the room can be seen. No talking, the band enter the stage blasting into 'Young Chasers' – a song full of playful angst – as Kieran Shudall, lead vocals and guitar sings, "don't waste my time". 'Best Years' is next in line; the pounding guitars are a force to be reckoned with. Circa Waves – made up of Shudall, bassist Sam Rourke, guitarist Joe Falconer and drummer Sian Plummer – have immense personality on stage; each member fully throws themselves into the rhythm, twisting and turning in all positions, playing their instruments like this might be their last ever show on earth.
Their energy as unit is undeniable during 'Good For Me', a single currently free on their website if you sign up to their mailing list. Just watching the band play is an enjoyable spectacle in itself, even without taking into account the upbeat and catchy nature of the songs. 'Lost It', a number taken from their debut album in progress, is a new gem for the crowd, a slower one with a far more serious tone as lyrics about "broken homes" are sung; Shudall's distinctive twang is made so distinguishable, adding a hint of lightness and hope. Up next is 'Catch My Breath', a fast paced sketchy rock and roll number, featuring an interesting guitar mid section and layers of bass that scorch through. The bass undercuts the majority of the songs tonight, adding depth and the rock edge Circa Waves possess.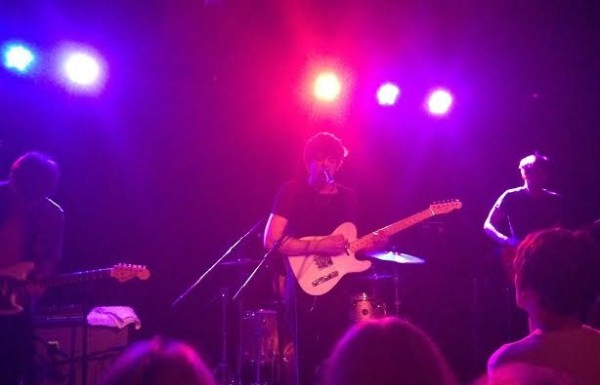 Previously selected as Zane Lowe's 'Hottest Record', the current single – which has gained the band new followers (myself included) – 'Stuck In My Teeth' is placed just over halfway through their performance, teasing the crowd with a drum intro to the unforgettable beat of the song as the room fills with whooping and hollering; this is what they have come to see. Live, the buoyant and blissful temperament of the song is personified and is sincerely an exhilarating moment of the show. 'Fossils' is endorsed as 'more funky' by Shudall, which I have to admit, with the increase in the amount of moving bodies in the room, is absolutely true. The rawness of the guitars and melodious drum beat can't be ignored and is another animated track to indulge yourself in. 'My Love' is another speedy tune, something you don't come to expect from the one that is designated as 'the love song', but attests to the band's pelting sounds, which are joyous to hear, as the song erupts into an outbreak of prevalent guitars and animalistic drums, which come to a sharp halt at the end.
Whilst some may not observe Circa Waves treading new ground in the types of songs they play, it is this simple back to basics approach which make them very likeable and appealing. Set closer 'Get Away', previously released last year, is ferocious, expeditious and fleeting all at the same time, with Shudall encouraging the crowd to dance along. The band harness a wall-of-sound, guitars and drums thundering and resounding throughout the compact space – an impressive end to an impressive show. With a summer full of festivals in the UK coming up, such as Glastonbury, Latitude and Reading & Leeds and many others around the globe, plus an album on the way, Circa Waves' future is looking extremely bright indeed.
Lois Browne