EKE SIMONS – Janacek, Wiklander, Liszt, Schumann
aaamusic | On 08, Jun 2014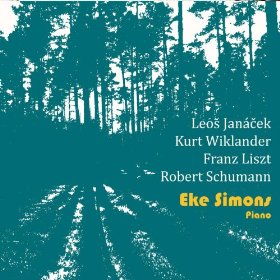 Dutch pianist Eke Simons has performed at major concert halls throughout the Netherlands and Sweden. She made her solo debut on Dutch radio, performing Janacek, and has given concerts in Germany, Spain, England, Ireland and Belgium. She also works as a chamber musician and with bigger ensembles like the New European Ensemble.
Eke is inspired by contemporary music and her bold and passionate interpretation of compositions from the late 20th century onwards has resulted in  prizes for her performances.
Her debut CD, with works from Schumann, Liszt, Wiklander and Janáček, was recorded in 2013 and the cover is a scenic photograph from Sweden where she lived for two years. Here a dark forest has light shining through the trees and the contrasting mood is a little like her music. She can be soft and slightly melancholic one moment, but lively the next.
Eke is a dedicated pianist who is impressive. She tackles demanding pieces, interpreting them well and making them accessible and captivating. She's variously described as dream like, romantic, majestic and unpredictable. As a sensitive and talented artist, she chooses to play intimate, personal music which is special or meaningful to her in some way.
Anthony Weightman