KISS – 40th Anniversary
aaamusic | On 20, Jun 2014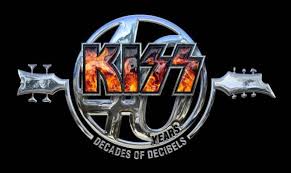 Their faces are painted with unmistakable black and white make up. They've been rocking all night and partying every day for the past four decades. It's now time for a great celebration for a great band. Who am I talking about? KISS of course!
40 years are gone since their debut album Hotter Than Hell (1974) but it feels just like yesterday as their style and verve are unchanged. And a glorious band of this size can only celebrate in a glorious way: a limited reissue of original and high quality vinyls released on four different dates, the ultimate vinyl box set Kissteria and last but not least the compilation KISS 40, a tribute to their brilliant career that picks up 40 tracks from every major album, symbolically a track per year.
KISS 40 has been in music shops since 27th May and it includes all the greatest hits of the hard-glam rock/heavy metal band from New York, from 'Rock And Roll All Nite' (1975) to 'Modern Day Delilah' (2009), from 'Shout It Out Loud' (1976) to 'Lick It Up' (1983). It also includes some commercially unreleased live material such as 'Crazy Crazy Night' from 2010's Sonic Boom Over Europe and the unreleased demo 'Reputation', an amazing track that they've been hiding since 1977 and that shows KISS still some thrilling secrets for their fans.
Current members Paul Stanley, Gene Simmons, Eric Singer and Tommy Thayer are not only celebrating the 40th Anniversary have also finally been inducted into the 2014 Rock'n'Roll Hall Of Fame, a nomination that puts KISS in the same bracket as the best rock artists in the world. With a co-headlining tour with Def Leppard on the horizon, KISS are still on the top of the rock wave and their songs are still made with love and to keep us company during some crazy, crazy nights.
Camilla Pascucci