John Renbourn & Wizz Jones – Live @ SJE Arts
aaamusic | On 22, Jun 2014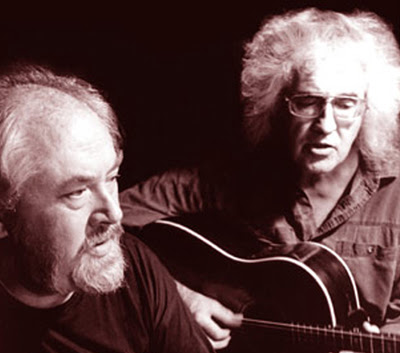 Friday 13th June, Oxford
Two prominent names in folk guitar to have arisen from the sixties are John Renbourn and Wizz Jones. They've been almost continuously active ever since. Together they eclectically fuse contemporary British and Celtic folk, blues and jazz with classical and Eastern music. This particular evening, their joyful, inviting and distinctive sounds were heard at the attractive concert hall of St John the Evangelist in Oxford.
The Billy Hill song 'The Glory of Love' was a fine tribute to Big Bill Broonzy whilst 'Burma Star' told about the army service of  Wizz's father. 'When I Leave Berlin', written in 1971 and recently covered by Bruce Springsteen, spoke of the unusual temporary opening of the Berlin Wall that happened for one weekend only. 'Fresh As A Sweet Sunday Morning' and 'Strolling Down The Highway' were moving tributes to the late Bert Jansch, with whom John jointly founded Pentangle.
The traditional ballad 'Lord Franklin' described Sir John Franklin's fatal expedition to discover the Northwest Passage through the Arctic and there was 'Great Dream From Heaven' by the Bahamian gospel artist Joseph Spence. We heard Bob Dylan's light and sensual love song 'Buckets of Rain', whilst 'The Mountain Rain' was a number by Scottish folk artist Archie Fisher, awarded an MBE eight years ago. 'American Land' ,an immigration song, was inspired by the poetry of Andrew Kovaly, a Slovakian immigrant steelworker.
Wizz told about  meeting folk legend Peggy Seeger for the first time in 50 years and she remembered him as a keen banjo student who hadn't paid his fees. He said he was horrified to go to the BBC Folk Awards recently to discover he was only allocated one bottle of wine! Leaving the venue, I reflected on these legendary finger picking guitarists and their love of behaving like mischievous schoolboys.
Anthony Weightman