DEATH AND THE PENGUIN – Accidents Happen
aaamusic | On 23, Jun 2014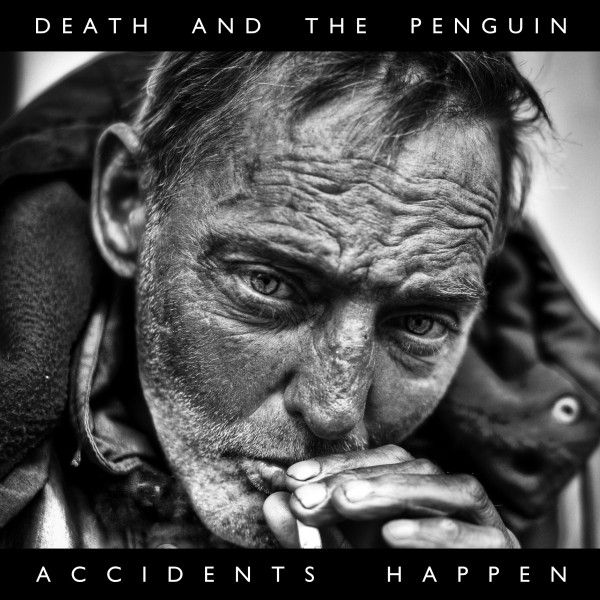 Accidents Happen is the debut EP from new band Death and the Penguin, who hail from Brixton.
What is immediately noticeable in this EP is the thrashing, precise drum-work, which neatly pulls the songs in interesting directions and defiantly avoids any fixed system or structure; a style that is consistent throughout Accidents Happen. The tightness of instrumentalism present in these tracks is admirable and the core strength of the EP; with daring musical leaps, in which the each instrument sticks together like glue.
As well as a 'hardcore' temperament there are moments to lull and reflect, with 'Space 1998' featuring buzzing flickers that give a real celestial and floating feeling; again joined with tight and powerful instrument breaks. The short but relatively intense midway pause in the EP 'An Opening', provides a momentary breather; before the high octane indie-thrashing continues.
Death and the Penguin are bringing an indie disposition together with a hardcore framework. This indie disposition is shown clearly throughout the EP with group rally-calls, tinged with an English accent; in what seems to be a throwback to those indie bands of the mid-2000s. The problem is that it may be too much of throwback, in the sense it could actually be from the mid-2000s.
What I feel is a downside to Accidents Happen is that it seems somewhat disjointed for an EP as a whole. It is definitely good to be diverse in your sound, especially in these musically multifaceted times, however it feels like Death and the Penguin haven't quite settled on a sound of their own; rather reaching into too many genres of the recent past and reproducing them all in to one package.
Overall the EP doesn't excite me musically, for 2014, however what is impressive is the band's musicianship: real, skilled instrumentals that clearly show a closeness and strength between the band. I strongly feel that music at this point needs to go back-to-basics (back to the guitar and drums) and in order to do that, it is important to have something 'new' for people to grasp on to; whilst showcasing aspects from old genres that made them so great. Death and the Penguin have the talent, and an appreciation of styles of the past; but need to modernise in small ways and put more of their own, personal sound into their work.
Liam Dodd