John Illsley – Live @ The Jazz Cafe
aaamusic | On 23, Jun 2014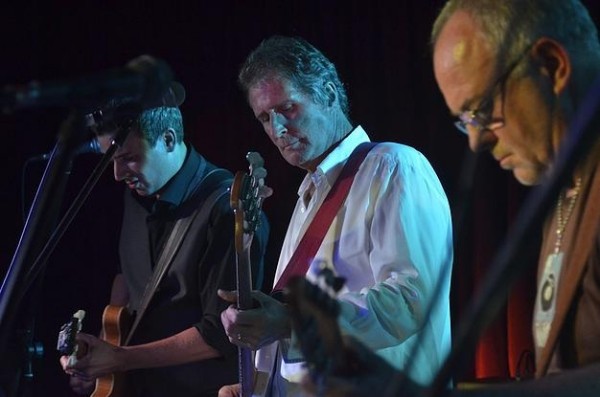 Thursday 19th June, London
Musician John Illsley became famous as bass guitarist for the iconic blues and rock band Dire Straits. They sold over 120 million albums and extensively toured the world.  He's also received many Brit, Grammy and Heritage Awards and acquired a reputation as a painter. Streets Of Heaven, his last album, was released four years ago.
At this album launch evening he explored his fourth and latest solo album Testing The Water, released on 16th June, 2014 on Creek Records. He also played some Dire Straits classics that continue to influence him and form his present sound.
'Walk Of Life', the instantly recognisable UK hit, was followed by the gentle 'Railway Tracks' with some beautiful guitar work. 'When God Made Time' was based on a saying John heard whilst touring Ireland. In the moving Shakespearean influenced 'Romeo and Juliet' he sung about the two legendary lovers, once deeply infatuated but gradually moving apart.
'Sultans of Swing' was originally inspired by a visit to a jazz band playing an almost deserted pub in South London, whilst Leonard Cohen's enigmatic 'First We Take Manhattan', first recorded by Jennifer Warnes, remained dynamic and intriguing. 'Money For Nothing' , with its controversial lyrics and familiar hook, was followed by Neil Young's 'Southern Man' , creating a powerful image of racism in the American South.
At one point a couple danced along the walkway to the rear of the stage, only to be shooed away by security people. "Hooligans!" said John Illsley, "They're well over 60 as well." With the addition of some surrealistic images, this could easily have passed as a Monty Python comedy sketch.
John, who's successfully overcome leukaemia, recently said "the last few years have been so turbulent politically, militarily and personally and I wanted to try and create some songs that reflected these strange times and perhaps were worthy of sharing with others." This was an emotional evening which included John's new songs where he tried to make sense of things that puzzled him. His lively and enthusiastic audience were keen to show their support.
Anthony Weightman