Emily Dankworth – Live @ Icknield Community College
aaamusic | On 30, Jun 2014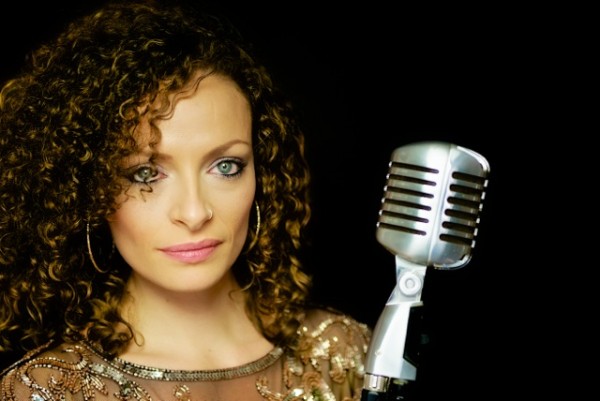 Saturday 18th June, South Oxfordshire
Emily Dankworth is the youngest jazz vocalist in her family of established singers and musicians.  She's the granddaughter of Dame Cleo Laine and Sir John Dankworth, and daughter of Alec Dankworth. Living between Spain, England and America, she's worked with many well known artists including American jazz musician Wynton Marsalis. At this open air event Emily was joined by Jamie Leeming (guitar) and Nic Breakspear (double bass).
Emily sang the smoky and poetic lyrics to the timeless classic 'Red Top' by King Pleasure and also 'I Can't Give You Anything but Love' and 'Dream A Little Dream Of Me', hugely popular jazz standards from the twenties and thirties respectively. From innovative Brazilian songwriters she took the 'Black Orpheus' film soundtrack by Antonio Carlos Jobim and 'Samba de Orfeu' by Luiz Bonfa.
Her belief in the power of voice was clear in her beautiful version of the traditional English folk ballad 'Scarborough Fair', which is a song that can be traced back to the 17th Century. Over time it's been endlessly adapted, modified, and rewritten and the "parsley, sage, rosemary, and thyme" lyrics continue to inspire much controversy.
Emily is influenced by classical and jazz music. She may have a voice "forged from the DNA of jazz royalty", but she's clearly developed her own distinctive style. She weaves colours and textures into songs and makes them sparkling, vibrant and imaginative. There's a natural quality to her voice that's expressive and inviting and she also has the advantage of a great rhythm section.
Anthony Weightman