Calling Festival 2014 – Live Review
aaamusic | On 02, Jul 2014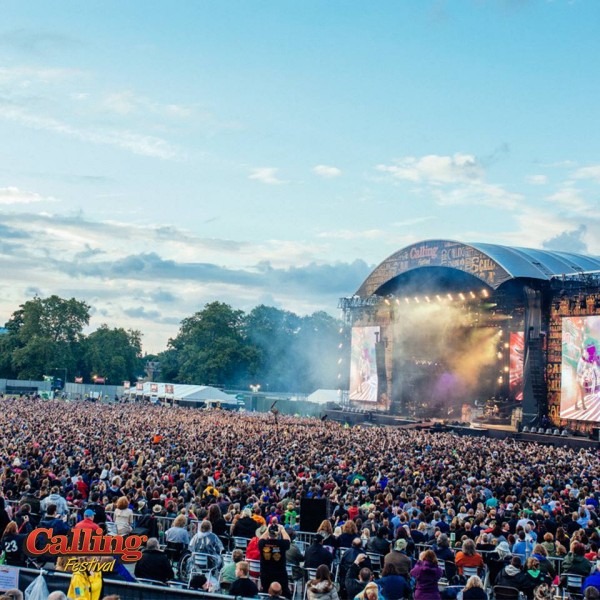 Saturday 28th – Sunday 29th June, London
One of the many things I had on my bucket list was to see Aerosmith play live. Call me a cynic, but (given their age) I had mostly given up on being able to fulfill that wish. However, when the chance came about for me to review a festival in Clapham that not only had Aerosmith, but also the incredible Stevie Wonder performing, it was like all my Christmases had come at once.
When I told people that I was going to a festival with two of the most seemingly unlikely acts to be standing shoulder to shoulder headlining, there were a lot of smirks and "oh of course, the most natural of pairings" comments. But this was not a clash of genres as much as it was a collection of some of the best performers from the past 50 years.
Saturday
Turning up at Calling Festival on Saturday 28th June, I was buzzing with excitement like a teenager buying their first legal beer on their eighteenth birthday. I wouldn't consider myself the most hardcore rocker, but I really enjoyed the Saturday line up. Taking a wander into the Pepsi Max stage, we not only manage to escape the rain for a short while but see some truly brilliant up and coming artists.
Housing some relatively unknown acts, this stage is a great opportunity for some fresh talent to be recognised- and you really need to stand out from the rest. Tax The Heat really did just that, in my opinion. The last thing you expect from a group of suited-up young men is some hard rock and heavy bass, but it was a contrast that sat well with me, and I loved hearing the comments, 'why on earth are they in suits?!', coming from the crowd around me. They now have to push to make sure it is not just their appearance that gets comments but also their music that accompanies it.
With the main stage and the Pepsi Max stage playing all at once, I was only able to catch snippets of these Pepsi Max acts but one band that I will definitely be looking up again is Lonely The Brave. I would have loved to see them on the main stage as another form of rock that would have added even more variability to the line up, but nonetheless I loved their sound, with 'Victory Line' being one of my new favourite songs. These guys from Cambridge could have a huge impact on the music world if they keep going the way they're going.
Back to the main stage and Radkey took to the stage mid afternoon. They are a fresh new band of brothers from America, with a lead singer whose voice has such a rich smoothness to it, you can't believe that he's about to be the voice of a hard rock band. However, this is definitely not the polished act that I believe Radkey have the potential to be, and the startled look of this lead singer peering between his dreadlocks as he sings almost seems like he was signed up for a jazz and blues night before being hijacked by rockers with a speed and aggression that seems to worry him. I also have a thing against filling up a basic sentence to the brim with swearwords, so I found the introductions to each song extremely hard to listen to.
Richie Sambora, who used to play guitar for Bon Jovi, was another of my favourites of the day (or should I say days, considering he appeared back on stage on Sunday with Stevie Wonder after also crashing Dolly Parton's set at Glastonbury earlier that day) – and wow, the girl playing alongside him, Orianthi, can ROCK. Her strong vocals and incredible guitar playing supported Richie Sambora perfectly. With some necessary homage paid to Bon Jovi mixed between his own solo works, it was a strong and steady performance.
Then came Joe Bonamassa, who was a great opening act for Aerosmith, with his old school blues rock beginning to spread a buzz around the gathered crowd. Unfortunately for non-Aerosmith bands in the lineup it was obvious – particularly in the rain – that everyone was here and ready to see the headlining act. There is not much that is more awkward than a band asking the crowd to sing back their lyrics to them when they don't know the words and are not willing to participate.
By the time the rain clouds parted, the audience had more than tripled, and without the time-wasting diva behaviour synonymous with Guns N' Roses concerts, Aerosmith began only about ten to fifteen minutes late. There is no other word that describes their performance better than perfection. Forget the fact the band have been around since 1970, they may as well have been in their '20s; the way they took over the stage and sucked the audience into their world of Rock. After hearing Steven Tyler perform 'I Don't Wanna Miss a Thing' on American Idol a couple of years back, I thought he had lost a bit of his exceptional vocal control. However, on Saturday night, this was not to be faulted, and his perfectly timed and pitched shrieks left the crowd wrapped around his little finger. There was only one part of Aerosmith's performance that had me confused and that was when Joe Perry was given the stage to perform 'Freedom Fighter'. As talented a musician he is, he lacks the charisma of Steven Tyler and in comparison with the rest of the set-list, I thought this song fell flat, making it almost awkward to stand and listen to. But after hearing 'Love in an Elevator', 'Cryin'', 'Sweet Emotion', 'Dream on' and 'I Don't Want To Miss A Thing', I was putty in Aerosmith's hands and from the groups of people still humming along to their music on the train ride home, I don't think I was the only one.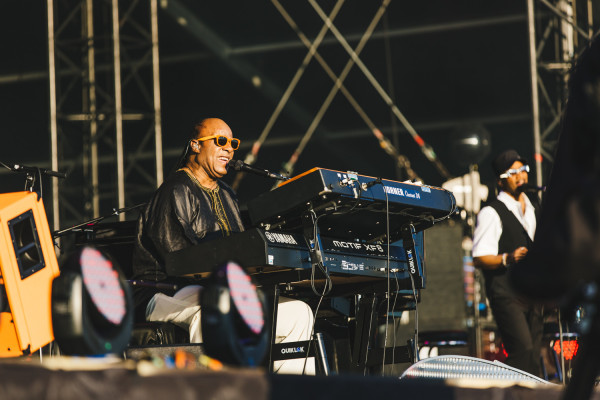 Sunday
Day two was the perfect way to spend a Sunday afternoon, recovering from the heavy feeling left after absorbing the previous day full of Rock 'n' Roll metal – and I found myself enjoyably glued to the main stage all afternoon. From James Bay's beautiful and mesmerising James Morrison-esque husky tones, to Michael Kiwanuka's rich, soulful tunes, it was lovely to look around and see people sitting down with picnics and cider, with their low conversational hum perfectly complementing what was making its way through the speakers.
When Paloma Faith took to the stage in the pouring rain, I don't think there was one person in the saturated crowd who wasn't charmed by her infectious personality. From admitting she knew she looked like a lampshade under her oversized feathery hat, to telling a story about an old boyfriend who kept asking her for money, she had the crowd hanging on her every entertaining word. Her stage presence is incredible and her beaming smile between each song showed how much she loves what she does. Her teetering around the stage in high heels did at times make me nervous I was about to see an accident, particularly when she lifted herself onto the piano, but thankfully it all went smoothly and her interaction with her band was great to see.
Then it was Jack Johnson's turn. His set was simple with planks of wood strung up together and a coat rack for Zack the pianist's jacket. Their relaxed approach to the festival was infectious and a refreshing change from full bands and backup singers. It felt like such an intimate setting, despite the fact they were playing to a packed Clapham Common and opening for Stevie Wonder – something Jack Johnson couldn't seem to get his head around and what Zack called a "career high".
Zack brought something fun and different to the set, with how he would saunter around the stage, messing with the cameras and making Jack Johnson laugh, before he would make his way back to the piano in his own time only to jam out some amazing technical music. Jack Johnson seamlessly performed hits including 'Taylor', 'Sitting, Waiting, Wishing', 'Good People' and 'If I Had Eyes', to the point where it sounded like it could be a studio recording and casually standing there with his guitar in a T-shirt, jeans and flip flops, he was effortlessly likeable.
A whole hour after Jack Johnson finished his set, Stevie Wonder came to the stage to face a packed and extremely excitable crowd. Now, don't get me wrong, I think he is an incredible musician and the music he produces is perfection. However, his performance nearly lost my attention almost immediately, with his heavy initial preaching and the way he would, from time to time, stop to tell his band it didn't sound quite right and to start again, making it feel a bit like we were watching a rehearsal. Maybe it was the switch from the chilled-out relaxed Jack Johnson set that left me feeling like Stevie Wonder is not a festival artist but instead needs the stage all to himself.
In saying all this, he (and his exceptionally talented FULL backing band) played the classics, 'Signed, Sealed, Delivered', 'Part Time Lover', 'I Just Called To Say I Love You', 'Superstition' – I'm going to stop listing them; all his songs are classics and the audience, who absolutely loved them, joined in with a resounding roar. His vocals are something else and the joy in his face while he sings is heartwarming and despite the niggling negatives I have just talked about, his non-religious chat with the crowd and the great performance of the music that is so well known and loved was something I feel lucky to have witnessed.
Rachael Pilkington