Black Sabbath – Live @ BST Hyde Park
aaamusic | On 07, Jul 2014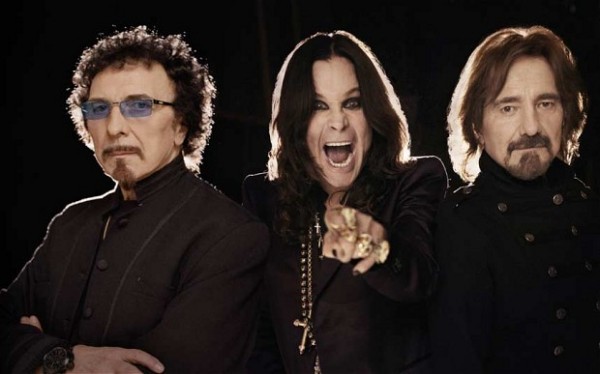 Friday 4th July, London
Hyde Park, as a venue for live music, has suffered a bit of an unfair hammering in the music press these past few years. It's had to juggle relentless anti-concert campaigning from local residents with complaints from music fans of poor sound, early curfews and, more recently, unimaginative lineups and dwindling ticket sales. Talk about being stuck between a rock and a hard place (or a hard rock and heavy metal place? No?). But we're talking about one the most iconic concert settings in the world, a glorious central London location that has staged some of the most historic rock'n'roll gigs of all time. Tonight's British Summer Time (BST) event is an ungentle reminder of how great, if all the nuts and bolts are connected together correctly, Hyde Park can be as a music venue, with Black Sabbath delivering a phenomenal performance that will be no doubt become as legendary as the celebratory gigs by The Rolling Stones last year.
What's particularly special about this BST event is the calibre of the bands on the lineup. Before Sabbath there is the smaller matter of Faith No More and Soundgarden, two headliners in their own rights (in fact, Soundgarden headlined Hyde Park themselves just two years ago), both of which are granted extended sets equal in length. Having never seen Sabbath, Soundgarden or FNM, this was an extremely special date in the calendar…
First up are Faith No More, who are here for their first live show in two years. Even for their early evening slot, the audience is already pretty damn massive, seemingly twice the size of the crowd Arcade Fire pulled in here at Hyde Park last night. The band arrive on a stage washed out in white, only covered with flowers, dressed as priests. Surprisingly, they open with three cuts from their greatest album The Real Thing: kicking off with 'Zombie Eaters' before moving quickly into two of their best-loved songs, 'From Out Of Nowhere' and the massive MTV hit 'Epic'.
Frontman Mike Patton is in a particularly demonic and playful mood: he prowls across the stage, pulling faces and screaming obscenities like, "your mother sucks cock in hell!", and, "let Jesus fuck you!". The band are perfectly on point and are blessed with what has got to be the best volume that Hyde Park has had in some time. They cherry-pick from across their albums, with other highlights coming courtesy of 'Midlife Crisis', 'Cuckoo For Caca', 'Ashes To Ashes' and a mid-set outing of their Commodores cover 'Easy', which rightly receives a massive sing-a-along. Perhaps the greatest part of this performance, at least for real FNM fans, is the surprise airing of two new songs – 'Leader Of Men' and 'Motherfucker' – either side of an unexpected encore, before they finished with the crowd-pleasing 'We Care A Lot'. Incredible. Please stick around, Faith No More.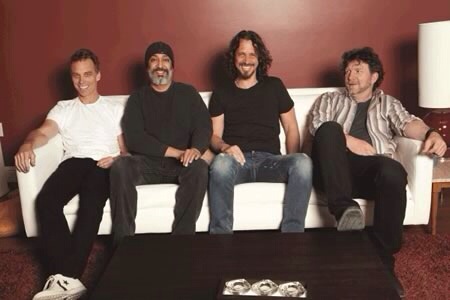 When Chris Cornell arrives to the sun-kissed stage (looking rather sun-kissed himself) and announces that Soundgarden will perform their seminal album Superunknown – which is celebrating its 20th anniversary – in its entirely for what it likely to be the last time ever, the baying Hyde Park audience show the Seattle legends just how much joy this news has incited. The journey from opener 'Let Me Drown' to closer 'Like Suicide' is seamless – each song fusing pulsating, stoner-metal riffs and down-tuned grunge, brought to life by a group of talented musicians letting their hair down.
Unlike Faith No More, who performed like they were on a serious mission to prove something, Soundgarden are relaxed and clearly enjoying themselves. Chris Cornell is jovial between songs, offering little anecdotes about the meaning of songs and talking about their love of Sabbath, and his voice remains one of the all-time greatest in rock'n'roll. 'My Wave' and 'Fell On Black Days' sound great early on, and they bring out Pearl Jam guitarist Mike McCready for a blistering rendition of the title track, but the highlight comes just like it does on the album: with the middle triple whammy of grunge anthem 'Black Hole Sun', 'Spoonman' and a brooding 'Limo Wreck'. What a tasty treat…
As all the promo billboards and posters have highlighted in the lead up to tonight: it's 'Black Sabbath Time' (a play on British Summer Time, for those a little slow). As air raid sirens begin to sound and a bluesy bass rumble dances around slow, distorted guitar, it's clear to every single Sabbath fan in attendance what this is; what is coming. As the intro to 'War Pigs' collides with Ozzy Osbourne's immortal wailing of, "generals gathered in their masses just like witches as black masses…", the audience cries out in a collective frenzy. Backed by huge screens displaying a mixture of band close-ups and fired-up visuals, Black Sabbath launch into their set with pummelling aggression and a devastating wall of sound – the volume of which will sure have the Hyde Park nay-sayers thinking, '…what sound issues?', and have the local residents thinking, '…oh come on, really!?'.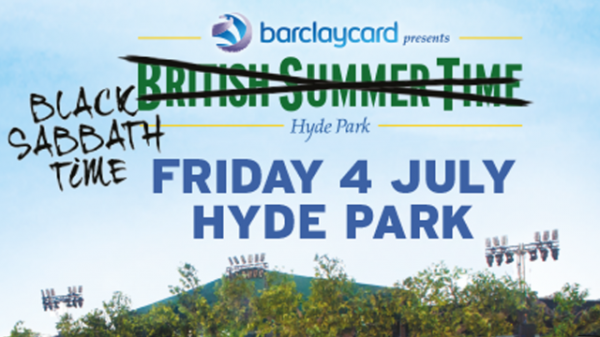 Tony Iommi remains the king of heavy metal cool, effortlessly unleashing crushing riff after crushing riff; riffs that helped form the very foundations of all heavy metal as we know it, while Geezer Butler's gigantic basslines propel the backend – it's easy to forget just how much colour Butler brings to the compositions, often adding flourishes of erratic boogie rock. Bill Ward is, naturally, very much missed behind the drum kit, but they make the most of having a youngster, Tommy Clufetos, in the fold – he attacks the kit and back catalogue with fresh dynamism, bypassing the subtleties an aging Ward might have brought and replacing them with sheer power and pace. Ozzy is a delight to behold, shuffling around the stage with more energy than he's had in his more recent years as a touring solo artist. His voice, though not quite what it once was (he is 65 after all!), is not nearly as frail as many critics and fans have been unnecessarily hissing in the buildup to this show.
The couple of newbies from last year's 13 aired, 'Age Of Reason' and a storming 'God Is Dead?', are proof enough that Sabbath's creative juices are still flowing all these decades since their inception, but this is about those '70s cuts that continue to strike a chord. 'Into The Void', 'N.I.B.' are 'Fairies Wear Boots' are particularly excellent tonight, but the greatest reception is given to 'Iron Man' (man, that riff!), main set closer 'Children Of The Grave' and the inevitable encore of 'Paranoid', their best-loved anthem.
As the band members gather on stage to humbly thank the crowd – bowing, clapping, smiling, patting each other on the back, all while fireworks explode above the stage – one can only hope that this isn't the end for Black Sabbath; the band have come back to life as a formidable live force, able to write and record music closer in standard to their classic albums than other bands of that era, and it genuinely feels like they could spring a few more surprises before the lights go out. But if this really does end up being the last Sabbath performance, then at least it's with a show that'll go down in the history books as a classic; surely the finest since they reformed. Here's to the end of the beginning…
Clive Paris Rozario & Oliver Fuke