PONY AND TRAP – Time to Engage
aaamusic | On 15, Jul 2014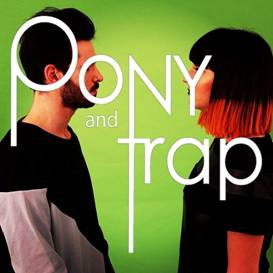 EP Time to Engage comes from duo Pony and Trap, which is out now. The philosophy of this EP seems to be 'do a lot with a little', as Pony and Trap use a simple drum, bass, guitar strategy (of course with the odd electro throb) and clever, uncomplicated use of effects; keeping it 'traditional' whilst sounding fresh and pleasing on the ears. Many new 'indie' rock/pop bands have a hard time keeping basic whilst at the same time sounding up-to-date; often sounding as if they could literally be from 2004 rather than 2014. There's no trouble of that with Pony and Trap who sound as though they suite the musical times completely.
The first track, also titled 'Time to Engage', is an attention-grabber to say the least. Those topsy-turvy, weaving guitar strikes and flickering drum movements of the chorus make for a great track indeed. As well as the interesting instrumental manoeuvres, what gives strength to all the tracks are the vocals that beautifully intertwine in-and-out of the music in irresistibly catchy ways; and all sounding quintessentially British. A thudding, consistent energy beats through each track on Time To Engage, thrown in with the odd funky guitar twangs and sleek jangles; making for a sure crowd-pleaser.
There is no doubt in my mind that Pony and Trap are on course for more and more success, due to the simple fact they're being innovative, unabashed and quirky in their musical ventures. It feels this is where 'indie' rock/pop should be heading.
Liam Dodd