Soundcrash Presents Tony Allen In London…
aaamusic | On 24, Jul 2014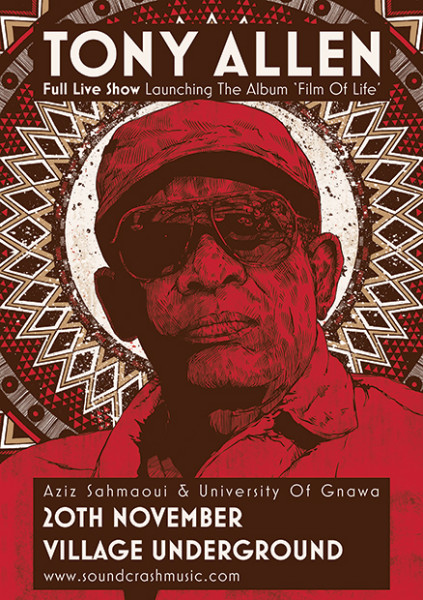 Soundcrash presents the Master Drummer of Afrobeat
TONY ALLEN
Plus special guest
AZIZ SAHMAOUI & THE UNIVERSITY OF GNAWA
Afrobeat legend Tony Allen returns to the UK to play live on stage on the 20th November at  Village Underground! The world's funkiest drummer will be celebrating the highly anticipated launch of his brand new album 'Film Of Life'. Brace yourself for a very special night fusing Bepop, Afrobeat, Jazz and Psychedelic Pop. The supporting slot will be held by the inspiring Aziz Sahmaoui & The University of Gnawa.
The incredibly gifted jazz drummer was the powerhouse behind the late Fela Kuti's pioneering Afro-beat and Highlife movement. Fela Kuti himself said 'without Tony Allen, there would be no Afrobeat.' The Nigerian singer, composer and songwriter from Lagos is self-taught, taking influence from Art Blakey or Mike Roach amongst many more.
Since working with Fela, Tony has been experimenting with pushing the boundaries of his music, delving into Dub, Electronica, R&B or Rap in order to deconstruct and fuse Afrobeat with today's music scene. A hybrid genre that he calls Afrofunk.
Now with over 50 years of experience in the field Tony comes back with a highly anticipated new album. This time surrounding himself with the talented Damon Albarn and cutting-edge producers The Jazzbastards.
Aziz Sahmaoui, the hero of Moroccan music created The University of Gnawa back in 2010 ; surrounding himself with fellow musicians from Morocco and Senegal. Aziz established a spirited ensemble chanting the common ground between sub-Sahara and the Maghreb.
The University of Gnawa is a truly brilliant handful of instrumentalists bringing together Gnawa rhythms and african roots grooves.
Tony Allen live with support from Aziz Sahmaoui & The University of Gnawa
Date: 20th November 2014
Times: 7pm – 11pm
Venue: Village Underground
Venue link: http://www.villageunderground.co.uk
Ticket prices: £16.00, £18.00
Tickets link: http://www.soundcrashmusic.com/tony-allen-live/