The Gaslamp Killer Is Coming Back To London!
aaamusic | On 24, Jul 2014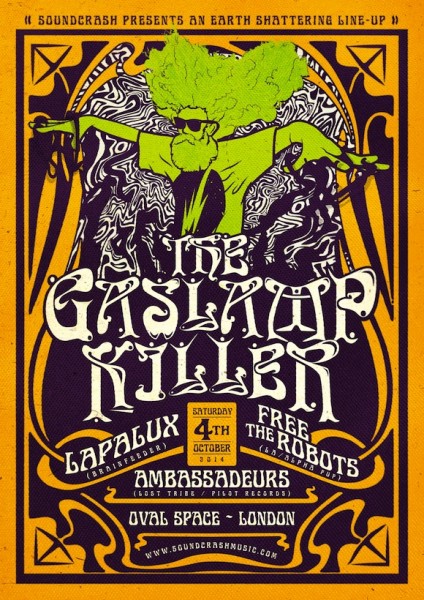 Soundcrash Present…
THE GASLAMP KILLER
(Brainfeeder/Low End Theory)
LAPALUX
(Brainfeeder/ Pictures Music)
FREE THE ROBOTS
(Alpha Pup Records)
AMBASSADEURS
(Lost Tribe Records)
Saturday 4 October @ Oval Space / 9pm-4am
Soundcrash Present one colossal  Autumn warehouse party with a much anticipated LIVE show from the one + only GASLAMP KILLER plus LAPALUX , FREE THE ROBOTS and AMBASSADEURS, at Oval Space, London. 4 October 2014!
Come see what happens when the most exciting sounds in music collide…
William Benjamin Bensussen aka The Gaslamp Killer has quickly become one of the most highly sought after beat maestros in the world. Relocating to Los Angeles in 2005, he co-founded the infamous Low End Theory party series together with Daddy Kev and DJ Nobody and became a cohort of Flying Lotus and the Brainfeeder crew.
"I've always been excited about music and what it does for people."
A master of dark, swampy funk, coupled with murderous drums and sounds from beyond. The scourge of gaslamps everywhere is an integral part of the LA beat scene alongside the likes of Daedelus, Samiyam and Flying Lotus, just to name a few. Once let loose on two turntables and a mic, The Gaslamp Killer gets wild and nutty, wrecking the decks like a mixture of Keith Moon and the Muppets' animal. Eastern psych rock and the worldwide beat movement he's been spearheading for a while now. Think the Merry Pranksters have taken over Brainfeeder for some acid extravaganza. Un-easy listening, indeed. You came here for a show and that's exactly what you're gonna get…
As singular as a brilliant artist always should be, Lapalux' instinctive understanding of the atmospheric power of texture grips the ear immediately on listening. His distinct sound is of R&B and soul  with elements of house and hip hop, all with the trademark Lapalux finish; infectious, lopsided swing and achingly deep texture..
Free the Robots, known as one of the fresher pioneering artists to come out of LA's beat movement, continues on building his line up of original recordings in directions still unknown… The energy and technical skill behind his live performances have landed him among the greats, sharing stages with the likes of Dj Shadow, Prefuse 73, Flying Lotus, to Afrika Bambaataa…
Ambassadeurs AKA Mark Dobson, a Musician/DJ/Music lover hailing from Brighton whose broad sound draws influence from Electronic, EDM, Hip-Hop and Dub, along with numerous Field Recordings and  ambient sounds all adding to the creative production which continues to push the boundaries
Expect ENERGY, maybe a little SWEAT, LOUD music and CHEAP tickets…
Soundcrash Presents:
The Gaslamp Killer + Lapalux + Free The Robots + Ambassadeurs
Date:Saturday 4 October  2014
Times: 9.00pm – 4am
Venue: Oval Space, London
Address: 29-32 The Oval, London E2 9DT
Tickets: £12.50 Early Birds / £15.50 Advance/ £19.50 Late/ MOTD
Available from: www.soundcrashmusic.com