Ten Must See Acts @ Beacons Festival 2014
aaamusic | On 01, Aug 2014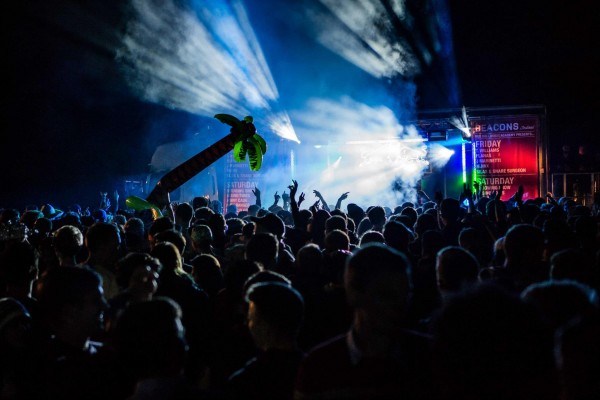 Ten Must See Acts at Beacons Fest 2014
Only in its second year, Beacons Festival definitely has emerged as the real alternative music festival this year, with a massive array of different styled music available to everyone. Running from the 7th – 11th of July on a small farm in Skipton, there is so much more than just music to this festival, adding in opportunities to drink in some arts and culture as well. These are the top 10 acts to search out over the weekend:
1. Darkside @ Loud n Quiet Stage – Sunday 10th August
One of the best electronic acts to have formed in the past few years, Darkside have made their own genre, drawing from all corners of the music world, with influences such as Daft Punk on their debut album Psychic, they will definitely be making an even bigger name for themselves and finding some new fans while on that stage.
2. Action Bronson @ Noisey Stage – Friday 8th August
The fastest rising hip hop star since Eminem, Action Bronson is not a man to be missed. Known for his heavy interaction with the crowd and pop culture related lyrics, anyone can easily be drawn into loving his music. With his minimalist style mixed with embellished novelistic elements, he is consistently excellent in his writing skills.
3. Daughter @ Loud n Quiet Stage – Friday 8th August
A three-piece indie folk rock band from London, Daughter's songs have been all over the world from Norwegian adverts to an episode of Grey's Anatomy. This sort of exposure has allowed Daughter to climb to new heights off the back of two EPs and their debut album If You Leave.
4. DZ Deathrays @ Loud n Quiet Stage – Friday 8th August
A couple of guys from down under are throwing their own genre out there by introducing the festival to thrash pop. With their debut album Bloodstreams winning best hard rock/heavy metal award in Australia two years ago, DZ Deathrays have since played in over 15 countries including Reading Festival and SXSW in Texas, where their set was cut short due to the extreme volume of the music – yet these guys are worth losing your eardrums over.
5. Nai Harvest @ Noisey Stage – Friday 8th August
Packed full of killer riffs and immense chord progressions, Nai Harvest are on the rise. Currently on a tour over in the US, they know how to please a crowd no matter how big or small. Once listened to live Nai Harvest take on a completely different form than their album could ever show, with thoughtful lyrics being thrown out left, right and centre.
6. Tall Ships @ Loud n Quiet Stage – Sunday 10th August
Hailing from Brighton, Tall Ships are here to show Beacons what math rock is all about, with songs that start acoustically, end with thunderous electronic sounds and vocals that come in half way through, Tall Ships know how to mix things up a little and the variety offered in each song means that any crowd can easily love what they do.
7. Pariah @ Red Bull Stage – Saturday 9th August
Pariah use age-old classic techno and electro influences throughout his work and is one of the best underground DJs coming out of the woodwork today. Pariah can easily control the mood of the scene he will be playing in due to his increasing variety in every song, going from sub-heavy electro in one moment to colossal breakdowns with rave style vocals in another.
8. XXYYXX @ Noisey Stage – Friday 8th August
Bringing in the RnB vibe is XXYYX, an 18-year-old producer from Florida. His ability to influx his bass-laden two step beats wih RnB is a feat in itself, which creates a feelgood atmosphere that travels from one person to the next and he can easily change the  dynamics of the music with one twist of the dials.
9. Jackmaster @ Resident Advisor Stage – Saturday 9th August
Jackmaster is a rarity among DJs with his willingness to include as many genres as possible from disco tracks that exude joy, purely through reminiscence, to house and techno set to get the crowd up and off their feet.
10. Charli XCX @ Loud n Quiet Stage – Saturday 9th August
Since starting her career at age 14, Charli XCX has gone from strength to strength, even collaborating with Iggy Azalea. Starting off set with some slick pop grooves amplified with big synths and then completing changing, easily slipping into a measured rap that adds more depth to the songs, showing Charli's versatility as an artist.
There are still a few tickets left, which you can grab now… but with these acts they have lined up and more, it's not one to miss, especially with a few artists that aren't playing much in the UK this year. Full weekend tickets are a measly £120 with day tickets also available for around £50, depending on the day. Check out the Beacons Fest site for more by clicking here.
Sean Shore