Gilles Peterson Announces London Show with Flako + Dorian Concept
aaamusic | On 20, Aug 2014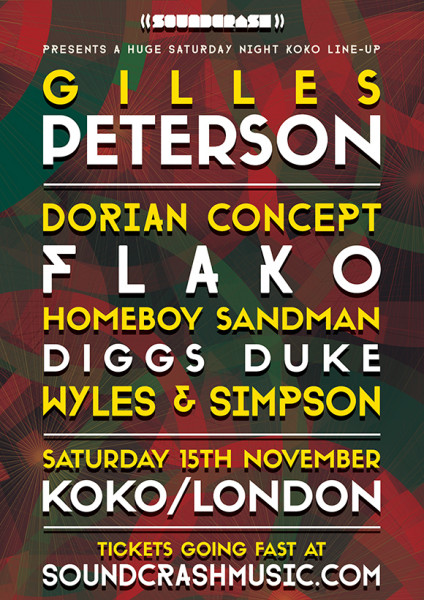 Soundcrash present…
GILLES PETERSON
(BROWNSWOOD / 6 MUSIC)
FLAKO
(LIVE / PROJECT MOONCIRCLE)
DORIAN CONCEPT
(LIVE / NINJA TUNE / VIENNA)
DIGGS DUKE
(LIVE / BROWNSWOOD)
HOMEBOY SANDMAN
(LIVE / STONES THROW / NYC)
WYLES + SIMPSON (LIVE)
15 November 2014 at KOKO London // 9pm-3am
This November, Soundcrash brings a musical whirlwind of incredible new beats and new live talent to KOKO, London, with one of music's great game-changers at the helm! Gilles Peterson leads the way with his extensive record collection, plus performances from the some of the most accomplished of the breakthough artists out there now!  Flako, Dorian Concept, Diggs Duke, Homeboy Sandman + Wyles and Simpson are all breaking new boundaries and will be the words on everyones lips next year. Plus they will using the Koko system to full effect and properly rocking the crowd.
 This will undeniably be the event of the season. 15 November 2014, stick it in the diary and act quick to bag yourself all of this for under £15…
***************
Gilles Peterson joins the dots from artists and labels to genres and countries, the BBC Radio 6 DJ and Brownswood label boss has an ability to connect and merge in a way that compliments everything so seamlessly. His passion and hunger for music grew exponentially as he submerges himself around those with similar creative flair and passion. His role as a DJ has played a key part in numerous live acts and talented new musicians making their way in to the prominent positions they are in today and the Brownswood label and Worldwide festival provide a consistent stream of previously unheard of music and artists.
Unintentionally off-the-grid and committed to his personal sound evolution, Flako is more of a Soul-documentarian than a typical beat maker. With roots in Chile, raised in Germany, and currently living in London via Berlin – the man himself is a melange of flavor. His particular sonic palette is a mercurial blend of warm analogue colors and cutting-edge design. His writing is marked by manifest emotion.
There is a certain element of playfulness and wonder that can be heard in the music of the Viennese-born, self-taught multi-instrumentalist and producer Oliver Thomas Johnson, aka Dorian Concept. Influenced by beats, jazz and hip hop, his concoctions reap havoc on the dance-floor but never lose their sense of musicality. Unconventional chord changes, expressive dynamics and quirky layers of counterpoint melodies are parts of his unmistakable musical voice. Dorian Concept is also expanding his much lauded live show into a trio with touring planned for Koko. The new LP, (out November on Ninja Tune 'Joined Ends' is his most deliberate, focused, and liberating work to date..
Winding horn lines and electric guitar passages. Vocals used sparingly over a transition. Djembe played in a tug-of-war with a drum machine. This is the sound of Diggs Duke's music, which can be characterized as a fresh, yet familiar interpretation of the bond between Soul and Jazz music…
New York rhyme twister, Homeboy Sandman is back in town. The Stones Throw emcee that prides himself on musical growth and evolution, he has adopted as his motto and creative mission statement, "Boy Sand like you've never seen him before. As usual." he's got one strong and loyal following, come witness his unique lyrical prowess and melodic flow live in action.
Both artists have distinctive musical signatures: Holly Simpson's mesmeric string and piano arrangements are as discernible as Abigail Wyles's uniquely captivating voice, which has been described as being capable of "stopping time". It's the creative conversation between Wyles + Simpson that provides the musical balance however, the genesis of a sound conceived somewhere between light and darkness…
Line-up: GILLES PETERSON, FLAKO, DORIAN CONCEPT, DIGGS DUKE, HOMEBOY SANDMAN, WYLES + SIMPSON
Date: 15 November 2014
Times: 9pm – 3am
Tickets: £12.50 Super Early Bird, £15.50 Early Bird, £19.50 Advance, MOTD
Venue: KOKO, London
Address: 1a Camden High St, London NW1 7JE
Tickets: www.soundcrashmusic.com