RÖYKSOPP & ROBYN – Do It Again
aaamusic | On 25, Aug 2014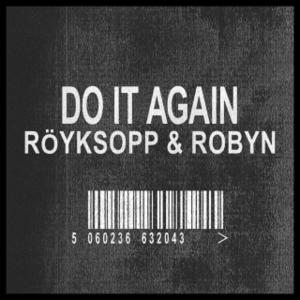 It's a melding of the Scandinavian minds on this one. Norwegian electro duo Röyksopp have come together with Swede Robyn to produce 'Do It Again'.
Having previously worked together on Röyksopp's 'The Girl And The Robot'  and Robyn's 'None Of Dem', the trio came together in December 2013 to basically just chill together: "We didn't have any plan other than to hang out, be together and make some music", said Berge of Röyksopp. The result of this was an EP that became very successful in Röyksopp's native Norway.
The opening few seconds are very strong and powerful – a good thing for a dance track. It's got an electrifying bassline – as soon as you hear it, it's totally consumed your ears. That power and strength in the bassline carries on throughout, and the verse is very gripping. If you're into dance music, you'll be a big fan of this.
However, It feels as though Robyn's very intriguing vocals are slightly underused here. The melody isn't hugely inspiring, and the lyrics are quite frankly dull. But then again, it is a dance track – it may have been made with the sole intention to dance, not listen really. The Eurodance-y chorus is also quite off-putting.
So. It really depends on what you want to listen to this song for, as to which part of my opinion you take on board.
Emma Dodds