Evergreen Terrace – Live @ The Parish
aaamusic | On 05, Sep 2014
This slideshow requires JavaScript.
Wednesday 27th August, Huddersfield
As last minute plans go this was one I was excited about for good reasons, mainly because it's not often that I ever go to gigs in Huddersfield, or for that matter see/hear about hardcore or metal bands playing in this town. Having only been aware of Evergreen Terrace through friends and word of mouth, I tried to withhold any pre-conceived expectations. I always find it best to follow this mantra, as opposed to doing the opposite which can sometimes offset the balance of being able to enjoy a gig, hoping to hear your favourite songs.
Support for the evening was an eclectic mix, which is always welcomed. The first band to adorn the stage was Aneurysm, a band who for all intents and purposes were your typical rock band, but who lacked stage presence. Any band can write good songs, but there needs to be character and uniqueness – a band without a charm which you latch on to can mean little for lasting impressions.
Next up was Cavorts, who clearly knew how to work a stage. The band had that familiar charm of a band that were not overly confident, but had just enough vigour and professionalism to their craft. When you are photographing bands sometimes you get wrapped up in trying to capture the perfect composition, but I found time to get wrapped up in the band as they performed, and I found myself thoroughly enjoying what they had to offer. The crowd, although low in attendance tonight, did nothing to affect the band which was a testament to them as musicians and performers.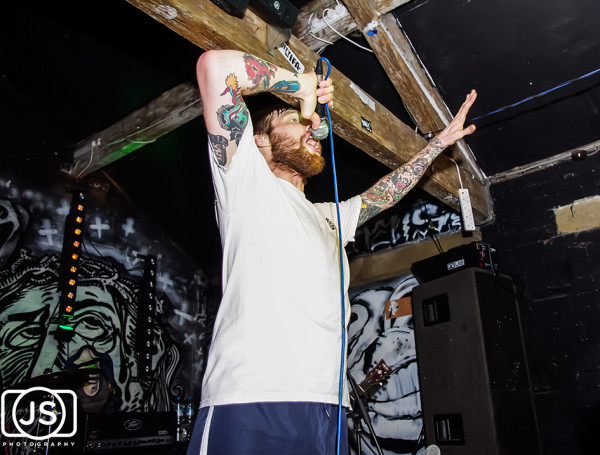 Finally, the main act Evergreen Terrace took the stage to cheers, showing that no matter how many people you may play in front of, any size of crowd can sound impressive. The band brought energy that was greatly reciprocated by the audience, and was a pleasure to see mic grabs, and sing-a-longs galore. The band has a sound that is akin to other bands of the singing/screaming ilk, but that is by no means disrespect to the band, as they wear their badge proud for their craft. Their performance could not be faulted, neither could their passion for it was unrelenting from the get go, which for a band who has travelled many thousands of miles one couldn't help but smile and look on with respect.
All in all tonight was success – a success for the town in hosting a great event, which has been solidified by not only a promoter who took the risk and the venue for hosting it, but the band for putting on a great performance.
Review + Photos: Joe Sheridan