AAA Music Approved: Kate Miller-Heidke
aaamusic | On 16, Sep 2014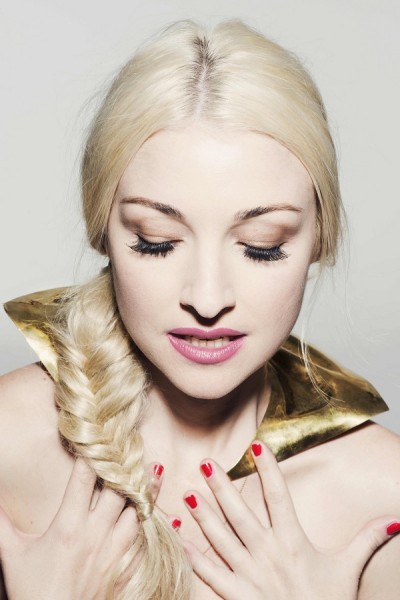 AAAmusic: Who are you and where are you from?
Kate Miller-Heidke. I'm a singer-songwriter from Brisbane, Australia. I formed in my mother's womb shortly after my parents' marriage. (I'm sure they had sex before they got married, but they must have been using some sort of contraception then). At age nine I was a member of the children's chorus in an amateur production of Oliver!, for which I won a Hamlet award for over-acting. The award took pride of place on my shelf next to the Paul Jennings books.
AAAmusic: What inspired you to get into music?
I think it was an instinctive thing. It was my obsession from very young. I never thought it was possible to be a singer/songwriter. I thought I'd have to be an opera singer or an actress. My biggest songwriting influences at the start were Joni Mitchell and Korn.
AAAmusic: What have you done?
I've carved out a small niche for myself, and nice music-loving people come to see my shows. The Pledge campaign for my last record was the most successful crowd funding campaign ever in Australian music. That's due to the quality of my fans. I've had a couple of what you might call 'hits' in Australia, platinum albums and songs etc, but my career doesn't rely on that for which I'm grateful. In October/November this year I am singing in The Death of Klinghoffer for the Metropolitan Opera in NYC. I also have a classical background and am writing my first opera, The Rabbits, which will open in Perth in February 2015. If you want to know any more, there's always Wikipedia.
AAAmusic: What are you like live?
It's important to me that my live show is entertaining. I want it to be completely absorbing, funny, moving, virtuosic and surprising. I'm not saying it always is all those things, but that's what I'm going for, ideally.
I usually play as a duo with my long-time collaborator Keir Nuttall on guitar.
We've played at festivals like Coachella and Byron Bluesfest and the Woodford Folk Festival. I haven't supported many people but one of my favourite shows was opening for Cyndi Lauper, and she made me get up and improvise during 'Girls Just Wanna Have Fun'. I have no idea what the fuck I sang. I have opened for Ben Folds internationally on five or five tours. Him and his audiences are some of my favourite people.
AAAmusic: What makes you different?
Most journalists I speak to would probably say it's the way I use my voice, my classical training, etc, etc. And maybe my lyrics. I don't know, I'm in no position to speak about it. That's something for people to decide for themselves.
AAAmusic: Physical vs Downloading vs Streaming…How do you listen to music?
As a listener, I like Spotify and vinyl. As an artist, I would like more money.
AAAmusic: What have you been listening to?
Kishi Bashi, Megan Washington, Courtney Barnett, Bulgarian vocal music – 'Le Mystère des Voix Bulgares'.
AAAmusic: What are your aspirations for the future? 
I'm hoping to keep surprising myself. That's the main thing. I'd love to write a musical. I also want to do lots more collaborating, more writing with and for others. I want to do a covers record at some point too. I also want to keep doing what I'm doing, because I'm very lucky.
 Questions answered by: Kate Miller-Heidke…
Kate's single 'Offer It Up' is out now…