Dark Sky – Live @ Red Gallery
aaamusic | On 26, Sep 2014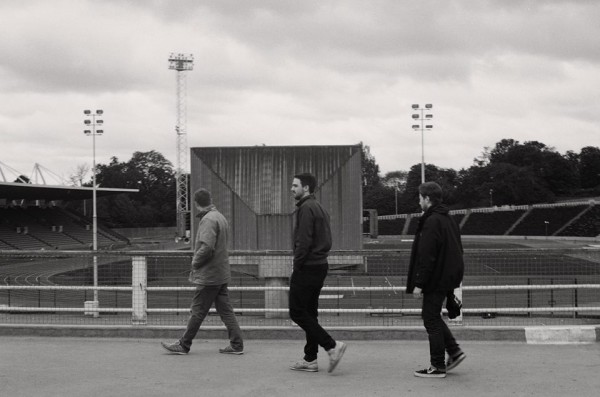 Tuesday 23rd September, London
It's hard to believe that this is Dark Sky's debut album launch. The London trio have steadily released music since their inception in 2009, but only in the form of singles and EPs. Finally, their first full length is upon us and, judging by some of the early reviews, Imagin – released via Modeselektor's Monkeytown imprint – is considered something of a curve ball by the UK bass collective. The musical direction might not be entirely aligned with their roots (more on that later), but these new tracks make a lot more sense once you hear and see them live. Tonight, at Red Gallery in East London, Dark Sky are here to not only showcase their new music, but to prove themselves as a live band entity. And that they do.
First up tonight are experiment electronic noisemakers, Rocketnumbernine. The synth/drums brother duo are riding a wave of notoriety at the moment following their work on Neneh Cherry's latest album and live shows (they double up as her backing band), but in this darkened, underground setting they're here to remind us about what they're really about: warped, abrasive electronic jazz. The drums switch between off-kilter techno beats and hectic jazz frills, while the stabbing synths twist and turn through post-rock and 90s rave music. There is little in the way of obvious melody to latch onto and often the music descends into layered distortion, but there is no denying that Rocketnumbernine are a thrilling and inventive live band.
Dark Sky's recorded output has varied from release to release, taking in dubstep, garage, techno and house, but Imagin features a melodic, often vocal-led direction; somewhere between post-dubstep and the melodic techno of Moderat. For that reason, they've been unfairly accused of moulding their sound as to be more closely aligned with their new label, Monkeytown, home of Modeselektor and Moderat. I was fortunate enough to see an early preview of this live project last year, long before the album came to fruition, and although that show was more bass-orientated, I could clearly see they were leaning towards this new subtler sound. And it's not like the Dark Sky of old has vanished – there are nuggets of the UK bass they're more closely associated with sprinkled through Imagin. For me, this new direction is less about jumping on some kind of Moderat bandwagon and more about making a type of electronic music that can utilise their musicianship and work in a live environment. They're no longer content with just DJing.
Tonight, Dark Sky are on great form. They've certainly grown in confidence as live performers since the last time I saw them, supporting Jon Hopkins at KOKO last year (read the review here…). The setup is fairly simple: two of the trio stand over tables of programming and mixing equipment placed either side of the stage, facing each other and flanking the last member on drums. The live drums are really the focal point and played with perfect precision, propelling all the trippy electronics with solid beats.
Naturally, most of the set tonight is geared towards the new stuff (this is an album launch after all) and it sounds great. The instrumental tracks ripple with energy, especially the latin-laced techno of album highlight 'Voyages' and the twisted tribal vibes of 'Manuka', the latter of which features a synth-led crescendo-like climax. However, Dark Sky are most alive when guest vocalist Cornelia is onstage. The redheaded Portico Quartet and Bonobo collaborator has an incredible voice, part Bjork and part Beth Gibbons, and she dominates all the vocal-based songs. Tracks such as 'Vivid', which she provides vocals for on the album too, work better live than on record, and she gives songs like 'Rainkist', originally sang by dBridge (who knew he had such a nice voice) a nice freshness.
Dark Sky close with the piano-led house of 'Voices' from their underrated In Brackets EP, rounding off the evening nicely in way that should appeal to those not yet won over by their new trip hop-fusion style. The trio might not exactly being doing anything particularly ground-breaking, but they were never about pushing boundaries; their focus was on perfecting genres and taking them to their logical conclusion. This is exactly what they've done with Imagin.
Clive Paris Rozario