BLUES PILLS – Blues Pills
aaamusic | On 29, Sep 2014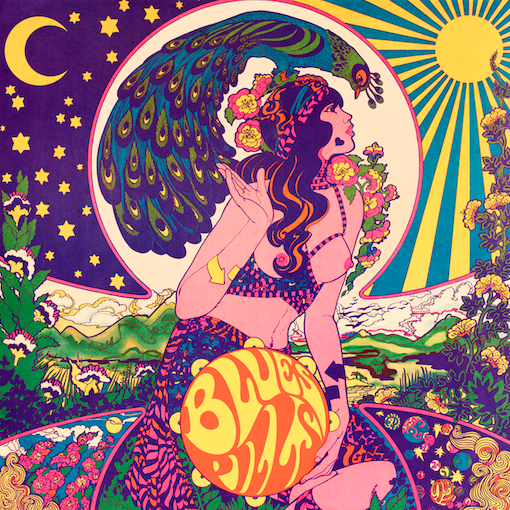 The throbbing intro to opening track 'High Class Woman' reveals much of what we can expect from this excellent album: power, swagger, a salute to the '60's spirit. Blues Pills have produced a very fine debut.
Based in Sweden, this international group of musicians demonstrate superb skill over ten excellent songs. Drummer Cory Berry lays down tribal Rhythms, rumbling with intensity, as Zack Anderson provides more meat with dirty, fuzz-soaked basslines. Mid-way through the gloriously psychedelic 'Jupiter', singer Elin Larsson displays remarkable versatility, shifting from her powerful roar to a soulful beauty that she produces again on 'Black Smoke'. Guitarist Dorian Sorriaux punches though the haze choked blues of 'No Hope Left For Me' to lead an epic crescendo, one of his many brilliant moments.
The self titled LP rocks with infectious abandon. Berry, Anderson and Sorriaux thrash wildly in 'Devil Man' and lay down crushing riffs on 'Astralplane' as Larsson hits lung-punishing heights. At no point does the band allow mane banging to interfere with their musicianship and the dovetailing drums and guitar that emerge from the frenzied intro to 'Gypsy' demonstrate total control.
Closing track 'Little Sun' provides a calming end to proceedings. Seductive guitar and rolling drums bring heart rates back under control before one last, wailing chord fades into the mist.
Special mention must go to producer Don Alsterberg, who has overseen the creation of a record that captures the energy of the blues revival, whilst allowing a group of excellent, young musicians to display their impressive talents.
Blues Pills is an album that deserves to be enjoyed on vinyl. Marijke Koger-Dunham's wonderful artwork was made for a full coverface. And the band's sound is made for the turntable, booming through foot-high, wooden speakers.
An extremely strong debut LP from a very talented band. Blues Pills merits a place in any self-respecting record collection.
George Prince