Famy – Live @ The Yard
aaamusic | On 10, Oct 2014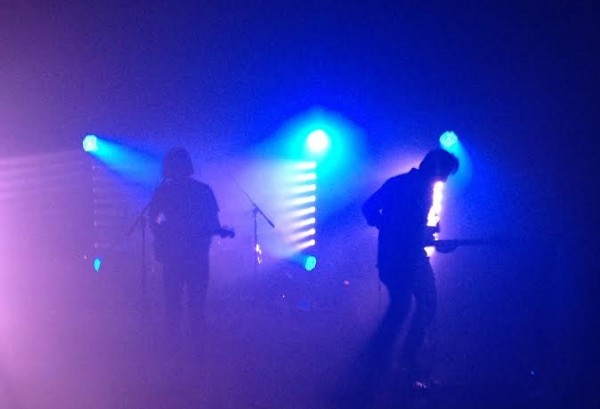 Tuesday 7th October, London
Whilst the season of Transgressive Record's 10th birthday celebrations continues, tonight is no exception as Hackney Wick's Yard Theatre hosts Famy. Artistically set up in the rustic make-shift confines of the space, the stage features their statue mascot and decoratively placed flowers against a backdrop of historic black and grey videos, which displays the countdown timer. It's well thought out and sets a pensive undertone before the show commences. "Hosannas" ring out intensifying in volume and force, as the tension builds you feel as if you have been transported to a sacerdotal ceremony. Masked by hazy subliminal backlighting and smoke, only the shadowy silhouettes of each member is visible (which is a method sustained throughout the majority of tonight's show), they plunge into 'Donkey', with a strength I have never seen them perform the song with before, it is refreshing and exciting to observe them commanding the room with such intent.
Having released their debut album We Fam Encono in September, the group takes full of advantage to showcase some of the album's best moments. The large sound of the harmonious chorals and chants on 'Barbie Girls', exhibit Famy's anthemic sounds, while 'Eileen' is a mellower number which slows down the pace, as classical guitar and laidback drumming is layered over one another to develop to an astute climax. Echoes of unrequited love and teenage crushes are versed through 'Cap Ferrat', as emotive vocals and pellucid lyricism imposes and captivates the audience. 'Mother Benita' switches from the softness of reverberating guitars to louder realms of the musical spectrum; again highlighting another example of band's talents for sweet-tempered song writing. Although tonight is mainly focused on Famy's progression to the fulfilled LP status not forgetting their roots 'History Lesson Pt. III' is also included in the set list. The guitarist lays down his guitar, to walk off the stage to have a one man party dancing and exploding his own personal party popper, it is a jolly number as stories about Famy's musical influences are shared.
However this evening's pinnacle and last song of the night is the masterpiece 'Ava'. Hauntingly overwhelming, transcendental and compelling, the words are sung from the very depth of the lead's psyche; it's poignant and sentimental. An act so revealing you feel as though you have accidentally stumbled across somebody's innermost private thoughts, "…cuddled up with a heart condemned I should love you and I swear I do". The vigour of the music compelling a small group of the audience members to huddle in front of the stage and thrash about to the grittier undercurrents, it is a humbling end to a visceral and spirited show.
Lois Browne