NEIL DAVIDGE – Riot Pictures
aaamusic | On 10, Oct 2014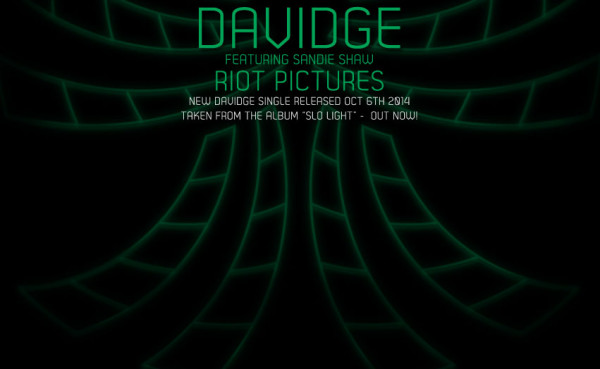 As partnerships go, you could probably do a lot worse than Neil Davidge and Sandie Shaw. With producer credits on three Massive Attack albums under his belt, not to mention a wealth of film scores, Davidge is no stranger to the music biz. Yet even his years of experience pale next to Shaw – the 'barefoot pop princess' – who has come out of short-lived retirement to celebrate 50 years since she first ascended to the top of the UK charts.
In the highly incendiary promo for the unlikely duo's new single 'Riot Pictures', Shaw appears to have disowned the Swinging Sixties for the mean streets of post-baby boomer London; kids skulk moodily in darkened rooms and police chase disillusioned teenagers down broken streets. Against this, Davidge provides rousing strings and trademark Mezzanine-inspired electronica. So far, so good. But surprisingly it's Shaw's vocals that seem flat, and – even a little bland.
For many that might be sacrilege, but without the benefit of rose-tinted glasses the performance, to me, feels lacklustre. Shaw has expressed her love of Davidge's work with Massive Attack as a primary motivation behind this project. While there are faint traces of that influence here, Shaw is a long way off emulating the hair-raising work of Elizabeth Fraser on 'Teardrop', or the subtlety of Hope Sandoval on 'Paradise Circus'.
In the end, Neil Davidge and Sandie Shaw have created an atmospheric track with little else to show for it. Murky yes, stylish undoubtedly, but this is more Harry Brown than Heligoland.
Tom Goulding