THE LEVELLERS + IMELDA MAY – Beautiful Day
aaamusic | On 14, Oct 2014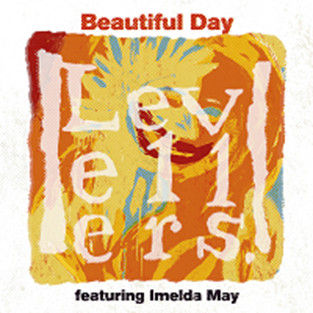 An exciting new release presented by The Levellers sees the inclusion of the amazing raw talent of the award winning Irish blues songstress, Imelda May. A treat for both The Levellers' and Imelda's fans alike, this is a punchy, fast paced and ferocious rendition of their popular hit 'What A Beautiful Day'. 
Driving bass and toms set up the pace and Imelda's vocals are the main focus in the verses, with an almost reggae style offbeat guitar accompaniment before she launches into the chorus where she belts every word.
Imelda makes the song her own with a fresh vocal approach, powerful and staccato with great flair and a soulful roundness. This compliments this more rockabilly arrangement, creating a direct performance, more festival blues rock than the familiar Brit-pop which Levellers fans would be more accustomed to. It's nice to hear the original string theme, maintaining a folk trad influence. Most of all, the short break down with beautiful backing vocal accompaniment makes this section even more ballad-like until the band drives the song towards the energised culmination of rocking guitars and thumping drums with layered harmonies from Imelda.
You will find this rendition of 'Beautiful Day' on their new album release, a greatest hits collection which includes every single and video from their repertoire, out on the 28th September. A great music video has also been created to show off Imelda May singing in The Levellers' Metway Studios as well as the band performing at their sold out Beautiful Day Festival.
Maddy Sutton