The Neighbourhood – Live @ The Forum
aaamusic | On 17, Oct 2014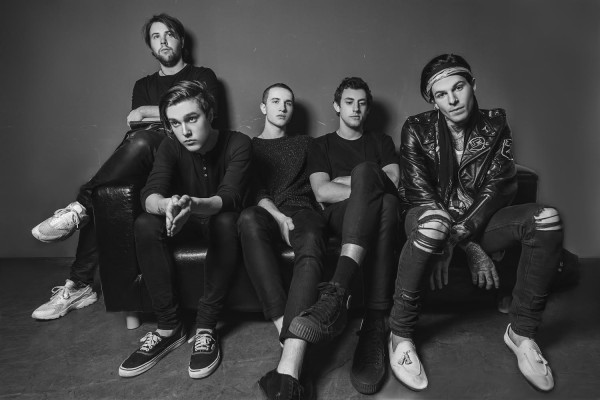 Tuesday 14th October, London
D/C is the first of two support acts to take the stage, presenting guitar based minimal RnB to the audience. Soulful keyboard and husky singing are blended with post-dub influences to produce a well-received set of covers (SBTRKT) and original material. Young Rising Sons provide the definition of American pop rock, presenting songs of anthemic proportions, chant-driven choruses and strong unified group vocals which dominates the venue; it's a confident outing for their first ever performance in London.
Before the Californian band even enters the stage, I'm taken back by the deafening screams erupting throughout The Forum, whilst 'Bang Bang' by Nancy Sinatra is played out as their intro music setting the mood for The Neighbourhood's morose entangled brand of rock and RnB. Their set commences with 'Female Robbery' as the churning riffs are almost drowned out by the restless crowd the adoration for this group is indescribable. 'Everybody's Watching Me' exhibits the group's finesse to merge genres as indie rock melodies and rhythm and blues honeyed vocals courtesy of lead singer Jesse James Rutherford are a perfect replication of those featured on their debut I Love You. The Neighbourhood exude a certified aesthetic of the monochrome, as the whole band including Jeremy Freedman (Guitar), Zach Abels (Guitar), Michael Margott (Bassist), Brandon Fried (Drummer) and the lead, are head to toe in black. This is not only echoed by their fashions, but also the complementary lighting which only switches between black and white low illuminations highlighting poised self-awareness an attribute contributing to their success.
Saxophone segments and bluesy guitar breaks enhance slinky inflections on 'Jealou$y', as Rutherford bounds around on stage feeding off the energy of the doting assembly. Samples of hip hop beats are stylishly and smoothly incorporated to deliver 'W.D.Y.W.F.M?' with a crosscurrent of melancholy they confidently relish in, as well as on other tracks in the form of 'A Little Death', as the haunting bass vibrates through your chest and 'Wires' a song covered in pop hooks, whilst hosting quite dark lyrical content, "…all that he invested in goes straight to hell." Though The Neighbourhood may have a distinct sound and an undeniable force live, their songs do have the tendency to blend into one another rather than having definitive pieces which at times can be frustrating.
However the last portion of the show is a run through of the bands biggest anthems with a new song 'Dangerous' thrown in for good measure. The standout is 'Sweater Weather', their breakthrough record and potentially one of the most provocative numbers of the evening it evokes a massive reaction, as their fans sing each lyric precisely while finishing off Rutherford's lines. It's a great example of how to write a cool laid-back song with catchy rhythms. 'Afraid' closes the show, an analysis of the bitter sides of romance, as Jesse venomously sings "fuck you anyway", it's a dutiful and seamless conclusion to what has been a victorious performance.
Lois Browne